This month the Tots100 Center Parcs challenge is so easy you really ought to enter: you could win a family holiday at Center Parcs! All you have to do is make Pancakes!!
Once you have your pancake (there are so many recipes on the web I didn't bother teaching you how), you're going to want to put something in it. Obviously there are your classic combinations: lemon and sugar, banana and chocolate, anything-with-squirty-cream, but if you want something a little special, how about Toffee Apple Pancakes?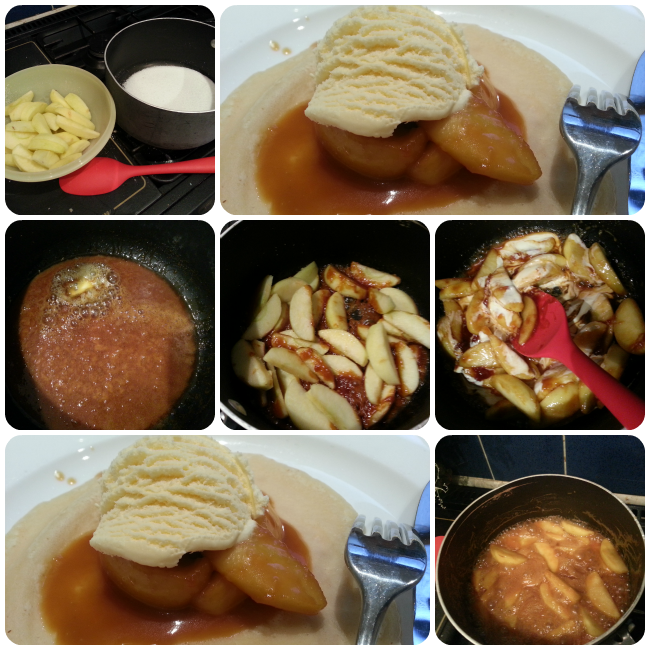 Ingredients:
50g unsalted butter
150g light muscovado sugar
small can evaporated milk
apples
Peel, core and slice your apples (I used 2 for 4 people) and put it to one side.
Next, melt butter in a non-stick pan over a low heat.
Stir in sugar and stir until dissolved, then turn up the heat and bubble for a minute or so.
Take off the heat and pour in the evaporated milk- it will splutter so be ready. Once calm, return to the heat and stir well until mixed and velvety and golden brown.
Add in the apples and simmer for a few minutes until your apples are soft.
Finally, pile up on top of your pancakes and serve with cream or ice-cream.
You can also flavour your pancakes: have you tried chocolate pancakes or pink pancakes?
By taking part in this month's foodie challenge you could be one of the four wildcard bloggers, chosen throughout the monthly challenges, to become a Center Parcs Family Blogger AND win a family break to the Center Parcs village of your choice. Terms and conditions apply.