The Fine Coffee Club sent some of their new look capsules for us to try in our Nespresso machine, along with some delicious biscotti. The biscotti went very well with some of the new coffee flavours such as the Lungo, which was my favourite. My girls loved the brightly coloured capsules and have numerous craft plans for them so they will get recycled. The packaging is definitely an improvement on their old style. But I still found the capsule to be a little clunky in the machine and the water didn't flow through as well as it does with the Nespresso pods. They work out about 5p cheaper per pod so I can see the benefit to using them but are still delivered rather than accessible in your local supermarket. You can also order biscotti and descaler through the site.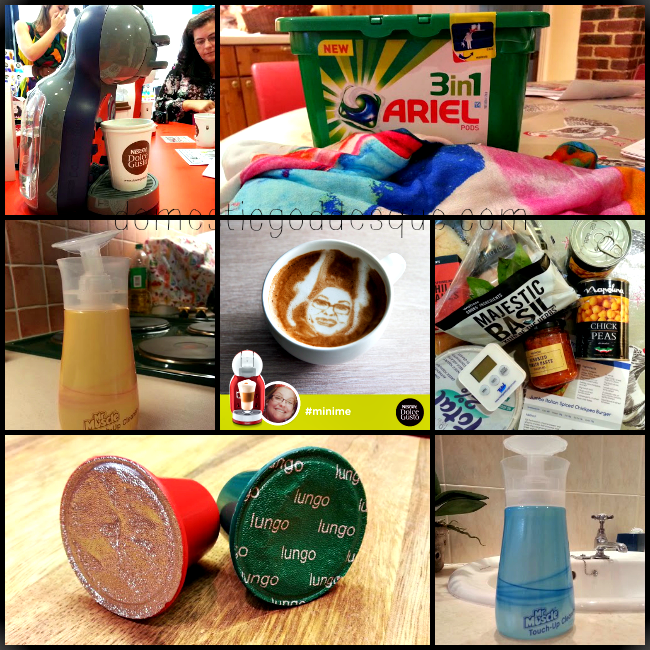 Nescafe invited me to an event to take a look at the Dolce Gusto machine. The science of how they create the pods was utterly fascinating. I loved the sleek design of the machine- perfect even for your bedside table- and it comes in a range of colours. And what is particularly great is the range of drinks you can make in the #minime machine- everything from Moroccan tea to Hot chocolate and delicious foamy cappuccinos- making it great for those of you who don't drink coffee! Currently retailing at Curry's for £99.00
Coppenrath and Wiese made me their blogger of the month and sent me some cheesecake to congratulate me. They have a whole range of frozen desserts which can be bought mid-week, ready for a weekend party. Or a Friday night treat. DH made the mistake of going away for work overnight so the cheesecake will be supper. Prices start at £1.50 for a cheesecake and the desserts are sold via all major supermarkets.
Ariel have recently launched new 3-in-1 pods – this is their most concentrated cleaning power yet as it remove stains, maintains whiteness and brightness of your clothes, and treats them with care – all in one groovy little pod. Perfect for busy lives because there is no measuring or messing about with cups and so on. Just bung in the machine, add laundry and go. It did a good job on DH's 'work' clothes which are covered in mud and sawdust from tree-felling, but LBG's ballet clothes were beautifully clean too and everything smelled very fresh. I did find a few times that the capsule got wedged in the door and didn't disperse very well- I had to scoop out the jelly-like remains before  could get my washing out of the drum. Currently £4 for 12 pods with Ocado.
Colgate sent The Girls some new age-specific toothpaste and brushes after Oral Health month in September. You can never have too many toothbrushes because they need replacing so frequently. And the children's ones are super because they are designed with children in mind: ergonomic handle, fun pictures and teeny heads. Dimples found her 0-3 toothpaste too strong but we struggle with toothpaste generally as she has a very sensitive palette.LBG loves having her own toothpaste (4-6) and that it sparkles. Evidently it makes her teeth perfect for 'when the tooth fairy comes!'
Mr Muscle have a new touch-up cleaner which is causing a storm in our house. It has a hospital-style top which you press down with your cleaning cloth to release the trigger, so it is hands-free. Perfect in the bathroom for small children who may not be as good at cleaning up after themselves: you can use loo roll, a quick spray and clean the loo seat easily. There's a kitchen one too. My frustration has been the packaging- the neck of our kitchen bottle broke in the car on the way home. it's still usable but I have subsequently seen quite a few on supermarket shelves with broken necks- I presume they have been put back on the shelves by customers who notice the damage before they finish their shopping! Retails at £3 in Waitrose. Mumsnet have been testing the Touch Up Cleaner.
Total Greek Yogurt asked me to #trytotal as part of the 7 Day Try Total Challenge. You can use yogurt for more than just a topping on your breakfast cereal. They sent me ingredients and a recipe to make chick-pea burgers which are a great vegetarian lunch and were so simple to make. I've been using Greek Yogurt with honey as a mid-morning snack lately too. I even have a post on recipes using yogurt so I have lots of reasons to #trytotal.
*disclosure: I was sent the coffee & biscotti, and the Ariel pods (plus t-shirt) as well as the ingredients from Total, for the purposes of writing this review. I received the cheesecakes and toothpaste as gifts and chose to write about them. I was invited to the Nescafe event and chose to write about it. I bought the Mr Muscle and chose to write about it.*