The Horn of Plenty is a project we've all been working on for a couple of weeks in advance of Harvest Festival, first on the constituent parts, then putting everything together.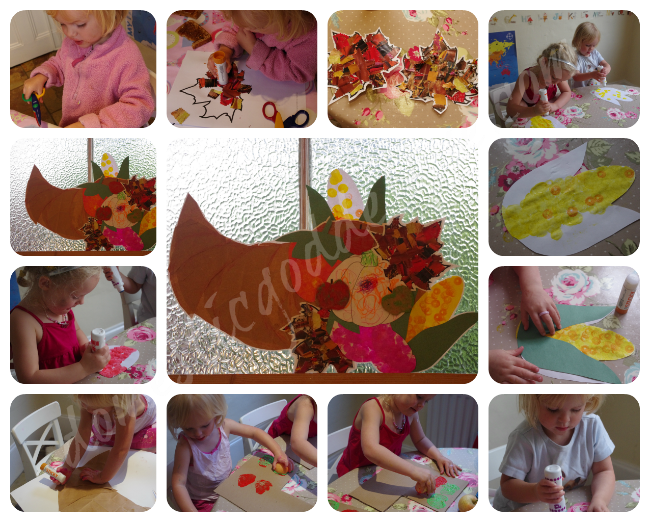 The easiest part, and my primary contribution, was making the horn. I used a piece of A2 card and sketched out the horn shape. Then I took apart a couple of brown gift bags I had left over from a birthday party. Next I cut crescent shaped pieces from the paper in a variety of sizes. Finally I layered them all up on the outline of the horn, adding and trimming bits where needed. The layers of shapes added a 3D effect to the horn that you probably can't see from the image.
This is how we made the components:
1. Leaves: cut or rip up pages from old magazines or catalogues in appropriately autumnal colours. Print off a large leaf shape (you could sketch one) and then glue your pieces of paper to the picture until all gaps are filled. Dimples changed tack half-way through and started screwing the paper up into little balls and sticking that down instead. Once dried, I cut them out.
2. Corn: I sketched a vague representation of an ear of corn on white paper and the girls used their dot markers in orange and yellow to dot-colour the little morsels of corn. This worked really well as an effect. I then cut two 'leaves' from green paper and we stuck them on either side of the ears of corn.
3. Using the same dot-marker-technique, we made a bunch of grapes and an exceedingly large strawberry, with green paper leaves.
4. Pumpkin: I printed of a pumpkin colouring page and Dimples had great fun colouring it in with the highlighters we were sent from Stabilo.
5. Apples: we used a tried and tested method of apple printing, using paint rather than dye, on corrugated card. Once dry I cut them out.
Finally I assembled all the dried, trimmed fruit and vegetables and arranged them until we were all happy. Slowly, starting with the bottom layer, we stuck the items in place. Once finished, we left overnight to dry before I cut it out.