It's only a month until half-term and Halloween, which means it's time for me to start planning our Annual Pumpkin Party. I had an idea for a no-bake cake-pop after seeing my daughters toast marshmallows on our last camping trip, so I wanted to test it out. I'm very pleased with my pumpkin cake-pops, and the Girls even more, because they can help make them.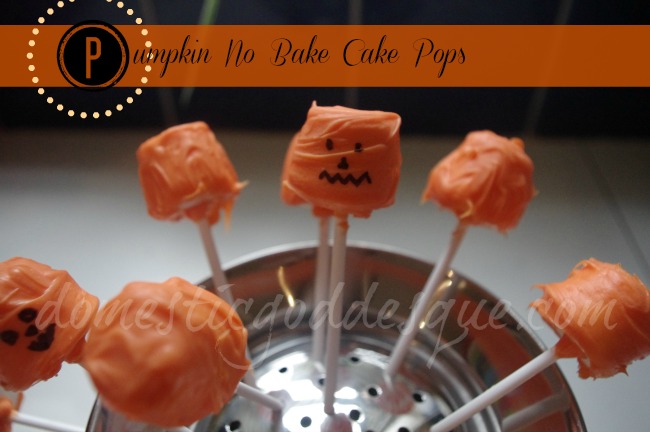 You need:
marshmallows
lollipop sticks
orange candy melts, or melted white chocolate which has been coloured orange
edible marker for detail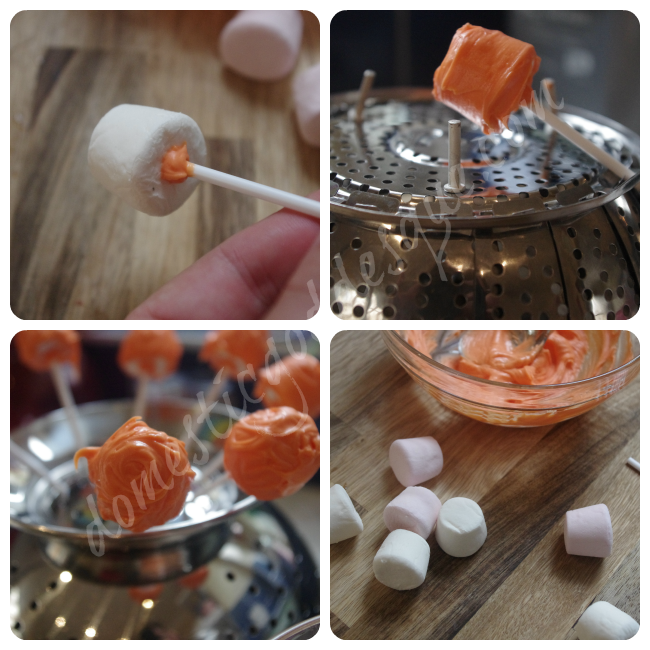 Once you have melted your candy melts according to the instructions, leave them in their bowl over a pan of steaming water. This will keep them melted whilst you work.
Taking your first lollipop stick, dip the end in the melted chocolate, then poke into a marshmallow.
Leave to firm up and repeat with your other marshmallows.
Once all your marshmallows have sticks, go back to the first and dip into the melted candies until covered. I actually found it easier to use the back of a spoon to cover the marshmallow.
Repeat with other marshmallow lollies and leave to dry: I found an upended strainer to be thr perfect thing to keep the sticks upright so that they dried evenly.
Once dry, add details with edible markers.
Serve to trick-or-treaters.
This is a blog hop, co-hosted by:
 Rainy Day Mum, Here Come the Girls, Domestic Goddesque, Emmys Mummy, Playfullearners, Jennifer's Little World http://www.jenniferslittleworld.com, Fabmums, Red Ted Art, Mummy Mummy Mum!, Mummy Mummy Mum!, Me and My Shadow
Just add your link and join the fun: