A couple of weeks ago The Girls and I were invited by Land's End to spend the afternoon at Freightliner's Farm in Islington. It's  a City Farm that I am familiar with, as Islington was one of my old stomping grounds in my past life as a nanny.
But it didn't feature the touchable Ben Shephard then.
Ben was working with Land's End launching their campaign to bring back #roughandtumbleplay. In a survey the company commissioned, it was discovered that traditional childhood games are on the endangered list. There's a real chance that you won't see your grandchildren play Hopscotch or What's The time Mr Wolf? because they won't be taught how to play them. Active kids make for healthier adults, believes Ben, which is why he supports the Bring Back Rough and Tumble Play Campaign.
All of which meant I knew exactly which games to play at our Back to School party (and I didn't even need the Games Download to remind me how to play them!) We chalked out a Hopscotch board on the patio, and played What's the Time Mr Wolf: both good games for reinforcing numbers and counting.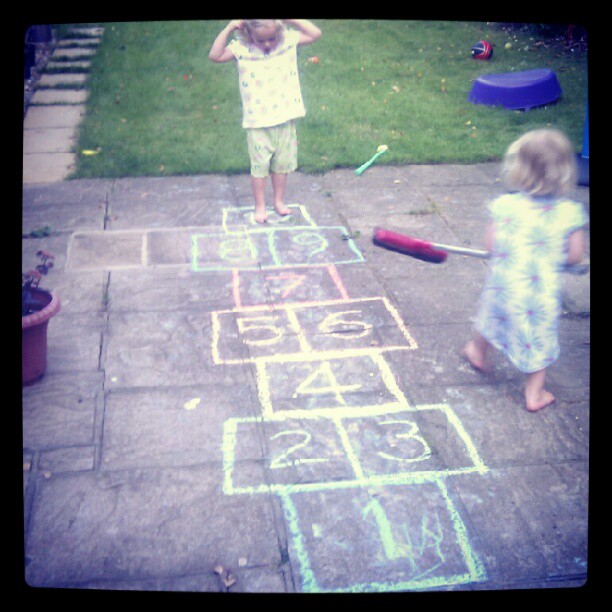 I followed this up with an Alphabet Scavenger hunt, just to do some letter work in advance of going back to school the next day. It is a very easy game for you to play at home, either inside or outside. I have two Alphabet Sets I made myself, which are on key-rings, and which sit in my bag to entertain the Girls when we are out and about.
To make them, I bought a couple of Alphabet posters from my local 99p store, and cut out all the individual letters (they were conveniently in square blocks, which made them easier to cut.) Once done, I punched a hole in each one and threaded them onto a keyring (purchased at Rymans.) For the Scavenger Hunt, I undid one set and hid them in various places around the garden, then sent each child in turn off to search for each letter in turn (I used the other set to show them which letter was next). It gave them lots of exercise and took about 20 minutes to play. Perfect.