We have had an Ikea Expedit 4×4 book case for a while: I bought it to house LBG's bedroom toys when the Dimpled Assassin arrived. The combination of toddler toys and baby toys lead to a bedroom overflow of 'special things' that LBG wasn't keen on sharing with her vomity little sister or, at that point, her friends.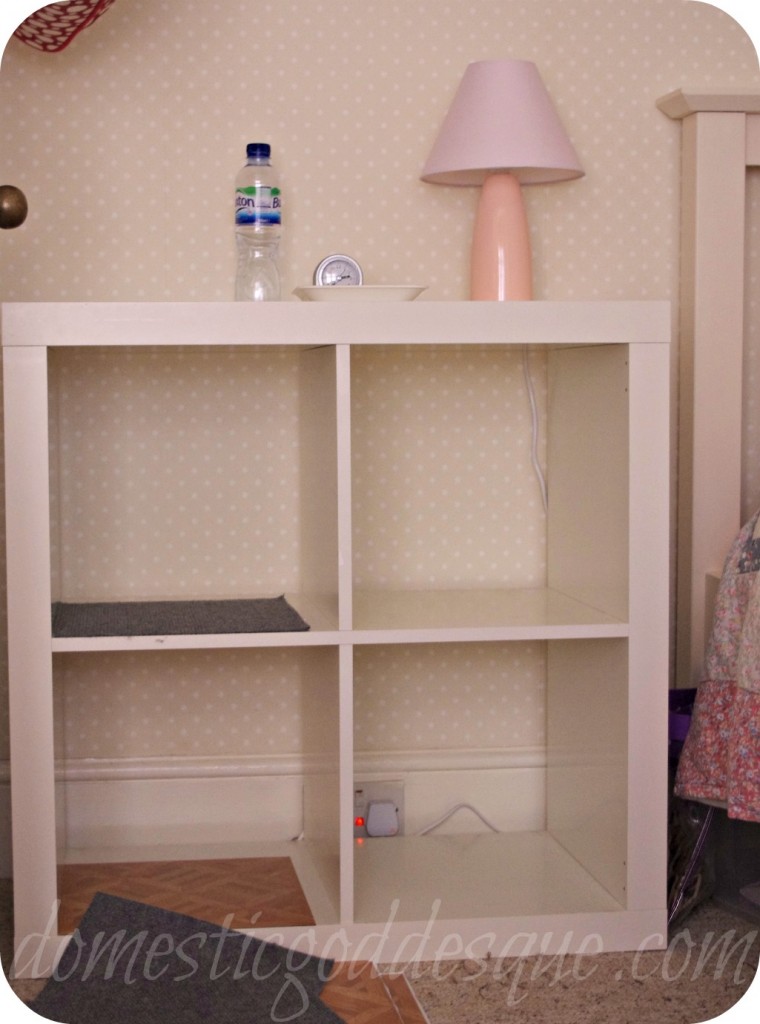 So I bought one and it lived in her room until Dimples moved in and we separated out the bunk beds. It has since migrated across the hallway to the former Nursery- now entitled Granny's Bedroom, according to The Girls- where it has continued to act as overflow toy holder and bedside table for Granny.
Then came Barbie.
I can only assume that the Barbies breed overnight because I cannot believe we have so many. Add in the teeny tiny clothes and teeny tiny shoes and added teeny tiny accessories and we have quite the Barbie Entourage. As most of the overflow toys will now migrate back downstairs due in part to the newly-designated Playroom and part to the Tots 100 Home Storage Challenge this month, I have decided to devote the Expedit to Barbie's Wonderful World.
And it was all done for very little money. I found some carpet tiles and lino tiles in my local 99p store, and just had to cut them to size and stick in place (they came with sticky backs. Very Blue Peter.) The downstairs Kitchen/Diner has a slick wood-effect easy-to-clean floor, whilst upstairs has 'luxurious' charcoal grey carpet.
I got a piece of MDF cut to fit one half of the bookcase, leaving the other free to house the two baskets which are filled with Barbies and Barbie 'accessories' respectively. Using wallpaper 'samples' that I picked up from my local Homebase, I was able to decorate the MDF. I cut the paper to size and glued down with PVA glue.
Finally I fixed the MDF back walls to the bookcase with industrial strength glue- so strong I had trouble squeezing it out- bought from a hardware store and recommended to me by the carpenter. He was here a couple of weeks ago finishing up in the Man Cave, and also cut me the piece of wood using leftovers from the build. You can get timber and MDF cut to size at your local DIY store or timber merchant though.
That's pretty much it so far: you can see Rapunzel Barbie is lying on the sofa reading Hello whilst Tango Barbie whips up a Cosmo in the blender at the Tiki Bar whilst upstairs Sleeping Beauty Barbie sleeps, as does teeny-tiny-Barbie's-sister-whose-name-I-don't-know. Over time I imagine I shall make new things for her home. No doubt LBG will get more Barbie stuff. Or she'll tell me I need to make something for Barbie. Like a loo. Or a kitchen.
But for now, I am feeling quite triumphant. This is my biggest 'DIY' project to date and I'm awfully pleased with it.