This competition has now closed and the winner notified.
I had planned to attend BritMums Live 2012. I bought a ticket. I got really excited.
DH booked us a holiday. He got really excited.
His expenditure trumps mine by some margin.
So I have a BritMums ticket to give away.
All you have to do is tell me how far you would go to get the ticket…would you serenade me in public? Would you beg mercilessly? Would you text me every day? The sillier, the more outlandish, the crazier the better*. Add your comment, with contact details, below.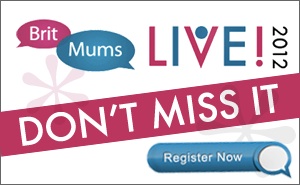 For an extra entry  then tweet and leave a separate comment to tell me you have done so:
"I'm so desperate to #win a #BritMumsLive ticket, I've entered the competition with @domesticgoddesq: http://domesticgoddesque.com/2012/05/win-a-britmums-ticket/"
*this is purely for my own amusement and has no bearing on the outcome of the random selection process.
This giveaway applies to UK residents only, over the age of 18. It does not cover travel or accommodation costs. The draw will be made using a random number generator after the competition closes at midnight on 21st May 2012. The winner will be notified by email or twitter, so please leave contact details when entering. If no reply has been received after three days, the winner will be redrawn.