I had some Union Jack napkins left over from my Royal wedding party, and with the Queen coming to Bromley as part of her Diamond Jubilee Celebrations, I thought I should put them to good use decorating our front door to match the Jubilee Bunting that we had already made. Taking the Spring Wreath I made a few weeks ago, I stripped it back to the crepe paper, wrapping it in an additional layer of red.
Once the base layer was done, I could get to work on my Jubilee Door Wreath, which was very quick and easy. Whilst The Girls were tasked with making flowers from spare crepe paper, I covered the wreath in napkins in much the same way that I did with the Spring Wreath. Bizarrely, because I didn't want to fold the napkins in half, I ended up with a very hexagonal wreath. It's growing on me.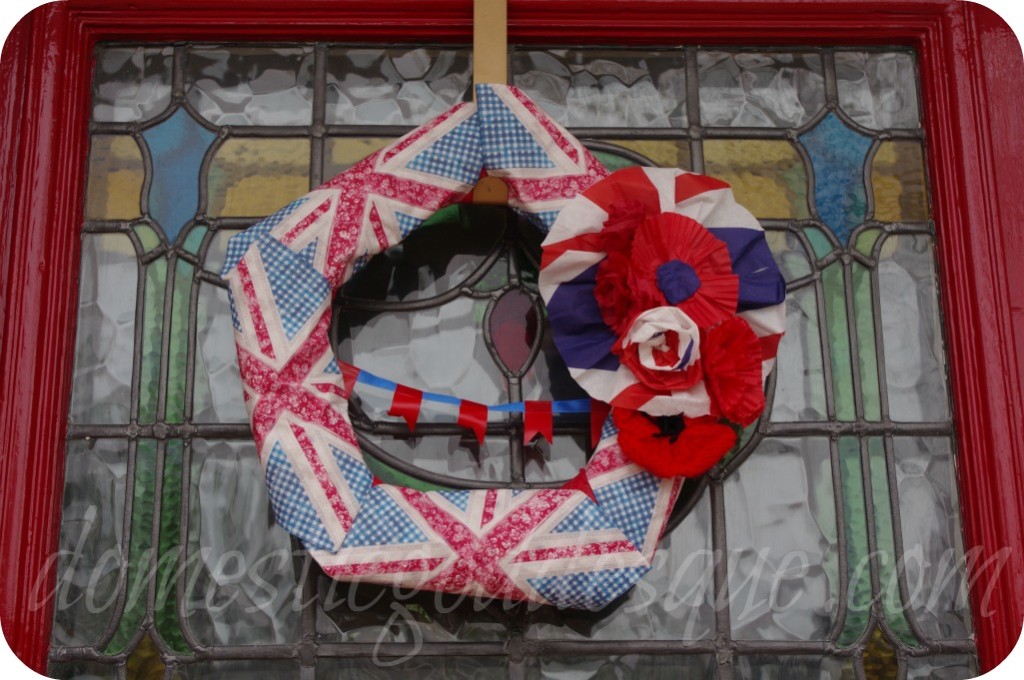 Next it was 'flower duty'. The Girls made a couple of super crepe paper 'balls' which I was able to adjust to form something approximating roses.
I folded one napkin into a concertina, then stuck the two open sides together at both edges, and formed a rosette, which I stuck in place on the wreath, adding a red cupcake liner and a squished up piece of blue napkin in the centre to finish my giant rosette.
Realising that the cupcake liners were the fastest way of making flowers, I scrunched three of them up, sticking one inside the other, to create a carnation. I'll definitely be remembering that for Remembrance Day later in the year.
I also cut one of the napkins up into strips and made a couple of rough roses by rolling them up too. I stuck it all together on one side of the hexagonal wreath.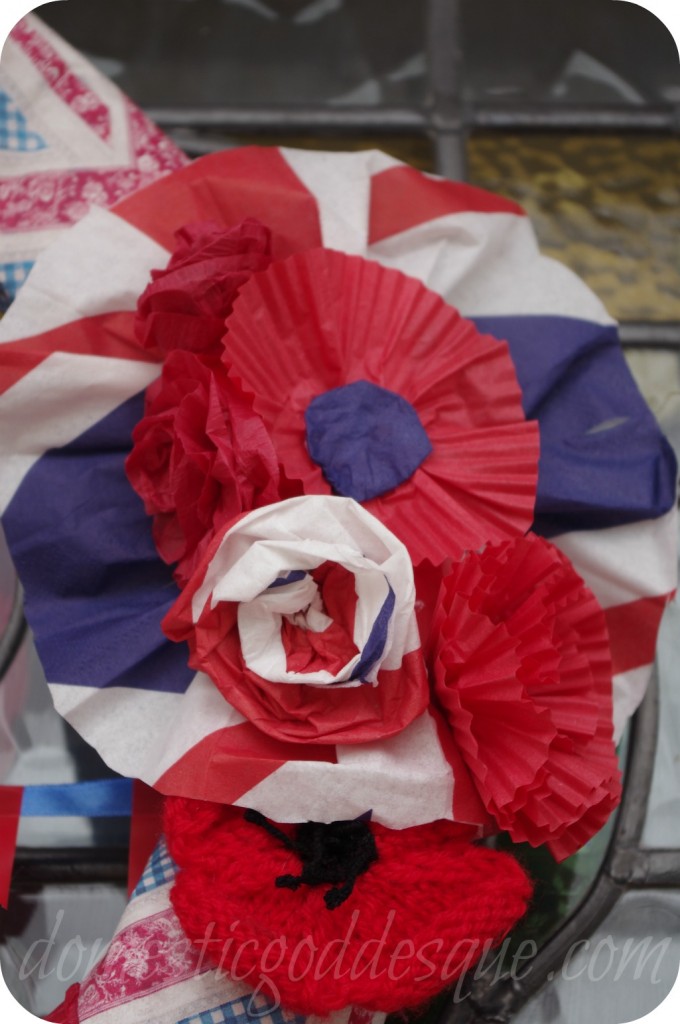 Then, just as I was about to hang it, I remembered a wreath that I have seen somewhere which used teeny tiny bunting. This was exactly what was missing and was the work of minutes to knock up: I just folded some red electrical tape around a length of blue ribbon at regular intervals, then cut out a V shape from each 'flag'. Once the mini-bunting was added to the reverse of the wreath, I hung it from the front door.
I doubt that the Queen will pop by for tea, but at least if she does, she'll know that she's very welcome!