I know that if I had my time over I'd ban all toys that require batteries. Particularly ones made by large American toy companies that have irritating yet catchy tunes that you find yourself singing long after you've bestowed said toy upon the nearest frenemy, or charity shop. Entertaining your children doesn't have to involve masses of mass-produced garishly-coloured toys.
Take pasta, for example. It's inexpensive, easy to find, and a great learning tool, whether you are at home, grannies house or, as in our case, in a holiday apartment. It doesn't particularly matter which pasta you use, although the shapes seem to work best with little hands: the longer dried pasta has a habit of breaking into very small pieces far too easily. If you are worried about your children eating dried pasta, you could always cook the pasta first, although I have found that, even if my children do put it in their mouths, they soon spit it out again. Then you can: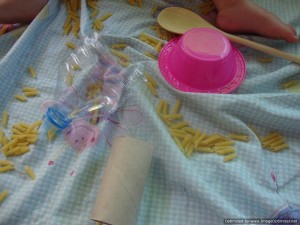 Give them bowls, spoons, cups and so on and let them mix up the pasta, transfer from one bowl to another, work on their spoon control and use their imaginations. It's best to put all the bits on a large mat or tray to help the tidying process.
Make a necklace: use a lace, or a child's needle and some wool, and they can thread the bits of pasta. Use pasta tubes as they will be the easiest to thread. You could also use several different types to create interesting patterns.
Play dough hedgehog: form a lump of play dough into a hedgehog shape, then stick bits of pasta into the body until you have a hedgehog. You could use salt dough if you wanted to keep the creature for posterity, or give to grandparents. Spaghetti is the best pasta to use for this as it creates excellent spines: it could be a porcupine if you prefer.
Road trip: use the pasta to make the outline of a road and drive your cars up and down. For smaller children a basic lane is enough, but for bigger kids you could fashion a racetrack, or a town, complete with houses and people.
Funny faces: draw a basic outline of a face on a piece of paper then use pasta to put features such as hair, eyes and mouth on the face. Then tip all the pieces off and make a new one. This is a great exercise for learning about what facial features are and where they go, and provides an opportunity to talk about emotions, and expressions.
Pasta bowl or basket: cover an upturned bowl with cling film, then cover with strands of cooked spaghetti (then starch in the pasta should act as glue). Leave to harden overnight, then paint. You could also do this free-hand by making 'nests' from cooked spaghetti or linguine. If you want to keep them long-term, you will need to varnish them when thoroughly dry.
Hide and seek: fill a bowl with small pasta shapes and bury some small toys in it, then get your child to feel around the pasta to find them. You could hide buttons or coins if you don't have any small toys. Obviously this presents a risk of choking so do keep a close eye on proceedings.
Kings and Queens: Cut a crown from card, and get your child to stick pasta shapes on it. Once the glue has dried, your child can paint the crown, then staple/stick the two loose ends together to fit your child's head. You could also spray paint it gold when your child isn't around for a more regal look.
Colour factory: dye batches of pasta different colours. Once dry, you could mix up the colours and get your child to separate them out, or start off with bowls of separate colours and leave your child to mix them all up. It's a great way of helping to teach them about colours.
Pasta painting: dip dried pasta in paint and use to print shapes onto paper. You could also use leftover cooked spaghetti to 'paint' by dipping it into the paint and dragging across the paper. See what shapes you can make using each technique: does the dried pasta make different lines to the cooked? Can you use them in differing ways?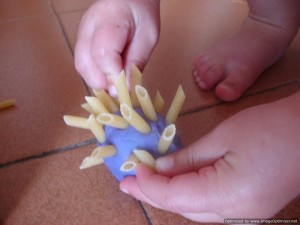 For other crafty ideas, check out these parties.