I've spent most of the day baking for our Royal Wedding Party tomorrow. A friend and I are following the recipes from a Coronation Street Party (that is a Street Party held in 1953 to celebrate the Coronation, rather than a party in an engaging British Soap Opera) which I will be hosting. I have asked that everyone wears a hat in honour of the occasion, and because this is my main memory of the first Royal Wedding I remember:
I'm grateful to our local Poundland for supplying the Darias [tiaras, according to PD] for The Girls, and a local Charity shop, which supplied DH's straw boater and the red, white and blue tie that is wrapped around it, because I am utterly exhausted and don't have the energy to sew rosettes to the hats I was actually planning on. I have been working on my icing skills by whipping up some Union Jack biscuits.
And what would a Royal Wedding be without a Crown or two?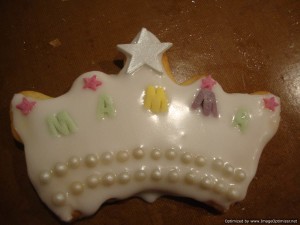 Whatever you are doing, I hope you enjoy your Royal Wedding long weekend. I shall be doing my best to acquire a new stash of Champagne Corks for the next event in the calendar. I might keep Will and Kate on the mantelpiece.