I have been tagged in possibly the best meme of the moment, (which I assume to mean that everyone who is anyone has already been tagged and so now it has filtered down to the ranks of those desperate hoping to be someone sometime soon,) for which I am thoroughly indebted to Ellen at In a Bun Dance. All Hail Mrs Lister, who started this particular ball rolling a mere 15 days ago. She clearly doesn't have children if:
"there's one thing I look forward to of a weekend it's our Saturday morning papers in bed. Coffee, croissants, toast, poached duck eggs on toast (get us!) smoothies and the Guardian."
But I shall forgive her the paper and the duck eggs and an actual newspaper, as we are on holiday on a farm in Sussex, experiencing fabulous weather and I am currently curled in front of a log fire noshing the Girls' Easter Eggs (fear not- these were gifts. They'll get one on the day. If for no other reason than the ones I bought are stashed somewhere so safe I've no idea where it is.)
But back to the matter in hand.
Which living person do you most admire, and why?
Without wishing to embarrass her, probably my Mother. I have never heard her say a word against my father. I admire her dignity.

When were you happiest?
Today on the beach in the sunshine with my family. The Girls were making each other laugh, and rolling over on the pebbles whilst DH and I took endless photographs of them.
What was your most embarrassing moment?
There are so many to choose from I wouldn't know where to start. Hypermobility makes me clumsy so I do some spectacularly stupid things. Although there was a time when I was at University, working in a pub and one of the regulars asked me when I was due. No-one else was forced to witness my humiliation but I carry it with me as, I imagine, does he.
Aside from property, what's the most expensive thing you've bought?
A coffee machine for DH: the traditional gift for a Fourth Wedding Anniversary is books (and fruit and flowers, but we'll ignore those). My husband owns a library. I went with the modern equivalent which is Electrical Appliances. DH and I agree that it's the thing we'd be most likely to save in a fire!

What is your most treasured possession?
Apart from the coffee machine? The handprints of the Girls. I made the casts when they were each three weeks old and keep them in a small bag on my dressing table. And every photo I own, digital or print.
Where would you like to live?
Wherever my family is: that is where home will always be.
What's your favourite smell?
Fresh coffee, warm bread, new babies, cut grass, Marsala, mulled wine, the sea, Chanel No. 5, there are too many good smells.
Who would play you in the film of your life?
I was always told in my twenties how much I looked like Drew Barrymore. I think she'd do a good job, though she'd need to put on a few pounds. And lose the accent.

What is your favourite book?
What is your most unappealing habit?
Eating raw biscuit dough. I make a lot of biscuits. I could easily be a stone lighter if I had any willpower at all.
What would be your fancy dress costume of choice?
You have no idea how much I hate Fancy dress parties. I live in fear of turning up to what I think will be one only to find I was the only one who didn't get the email saying that fancy Dress had been cancelled……rather like Elle Woods in Legally Blonde. In fact,  if I had Reese Witherspoon's body, then I'd so go in this Bunny Girl outfit.
[Photo credit]
Failing that, I always fancied the Mr Miyagi Shower masterpiece.[Photo credit]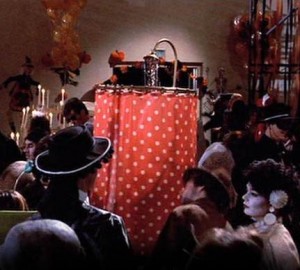 What is your earliest memory?
I woke up and it was night time and I was surrounded by an orangey light and could hear singing and laughing in the distance. I described this to my mother and she assures me that this is an accurate memory from a camping trip they took me on with friends when I was nearly a year old.
What is your guiltiest pleasure?
Hello! magazine, Marshmallow Fluff and bad taste in music.
What do you owe your parents?
Everything: they sacrificed everything to give my brothers and I the best education they could. They gave me the best childhood I could have asked for. They gave me their love and they taught me how to pass it on.
To whom would you most like to say sorry, and why?
To anyone who expected more of me, sorry and, in the words of the PD "Suck it up Dude!"
What or who is the greatest love of your life?
The father of my children, my best friend and my husband. They're all the same person, in case you were wondering.

What does love feel like?
A feather duvet, your favourite food, beers in the sun, a shared love of reading, eating out, kisses at Waterloo station, a shared history, clever jokes, unexpected flowers, ruining the laundry, great taste in jewellery, perfect holiday choices, hugs when you need them, frustration, calls in your lunchbreak, squash, lilies, planning, a sense of wonder, suspension of disbelief, finishing sentences, knowing menu choices, hand holding, moments, undestanding, missing the other dent in the mattress, calling when you get there, laughter, indigestion, sharing silence, goodnight kisses, pjs, secret chocolate stash.
What was the best kiss of your life?
[With apologies to DH who is without a doubt the best kisser I have ever, well, kissed.] The one I got from a half-asleep two-year old last night as I shifted her from our bed and back into hers. As I tucked her in, she turned and threw her arms round my neck, kissed me, and mumbled "I love you too, very much."
Which words or phrases do you most overuse?
If you consider the phrases that get thrown back at me by the Pocket Dictator then, in no particular order:
Suck it up, Dude.
Stupid Dog.
Cretin!
Don't you start.
I love you very much.
What is the worst job you've done?
Apart from becoming a mother, baring your undercarriage to a room full of strangers and pooing whilst you push? Apart from the breastfeeding, stretchmarks, saggy boobs, sleep deprivation, snot-wearing and poo-scooping?
That would be the one day I spent working in a sandwich factory. I was in the egg-shelling room. I stood for 8 hours in mind-numbing cold, wearing a white coat, blue hair net and blue wellies that were two sizes too big, wishing desperately that I had thermal underwear on, with a bunch of the most miserable women I have ever had the misfortune to come across. They moaned solidly for eight hours about how bad their lives were whilst we checked that the eggs which came along the line had been fully shelled by the shelling machine (people actually do that. Who knew?)
I haven't eaten a pre-packaged sandwich since.
If you could edit your past, what would you change?
The Perm.
What is the closest you've come to death?
Childbirth.
What do you consider your greatest achievement?
Repeating the experience.

When did you last cry, and why?
Yesterday, probably. My knee-jerk reaction to any surge in emotion is to cry. I've always been that way. It's bloody annoying when you are so angry with someone you want to shout at them and all you do is cry. I get it from my mum. PD seems to have inherited it from me.
How do you relax?
Hahahahhahahhahhahhahahahhahhaa! *collapses with laughter*
[some time later]
I bake. It's very therapeutic.
What single thing would improve the quality of your life?
Staff.
What is the most important lesson life has taught you?
That phrases don't become cliches without good reason.
I imagine after reading all that you are in need of some serious therapy, and who can blame you: the very idea of me in a bunny suit is enough to strike fear into the hearts of all those over the age of consent, and plenty under it too. If you fancy getting cosy on the couch, take the Q & A challenge. You'll feel so much better getting it off your chest. If you want to do this meme and haven't been tagged, let me know and I'll tag you. I haven't passed this on because I am so far down the food chain that Amoeba aren't interested. It's quite disillusioning when you realise that you have no-one left to tag.