On the eve of St. Patrick's Day, I give you the simplest shamrock EVER.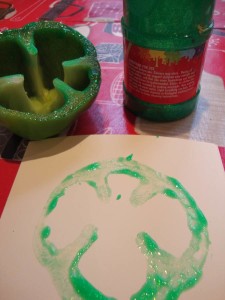 All you need is a pepper, a knife, some paint and some paper.
1. Using knife, cut pepper in half widthways.
2. Dip pepper in paint.
3. Print pepper onto paper, card, wall (OK, maybe not the last one.) And Bob is your Uncle.
If you are feeling a little more creative, try some of these great ideas:
Roots and Wings has been busy eating rainbows all week in the run up, and has plenty of other ideas for celebrating St Patrick's Day.
The Farm Girl shares the recipe for rainbow cupcakes and check out Nova's Rainbow Birthday cake!
There are suggestions for St Patrick's Day at Nurture Store
and The Imagination Tree has a divine Rainbow collage idea.
Little Wonders has gone shamrock mad (and they totally stole my pepper idea).
There are some super sensory play ideas at No Time for Flashcards.
Finally, Maison Cupcake, home of amazing cookery and reviewer of Le Manoir, made Shamrock Cakepops, despite significant illness.
We're having sausages and mash for tea in celebration of my 1/16th Irish heritage, with plenty of cabbage on the side of course. I baulked at the idea of having only green food. I hate green. I was inspired by all the Rainbow cakery to make Rainbow biscuits, and a few small shamrocks wedged together with peppermint buttercream.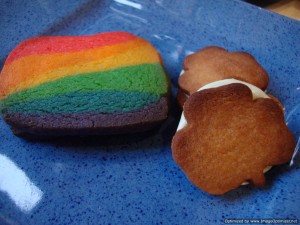 PD is very excited about taking the Rainbow Biscuits to school tomorrow, which should make up for my failed attempt at making Leprechaun hats. DH is delighted that I am not forcefeeding him Guiness (he already thinks I've gone mad making the cookies, not to mention Red Nose Cakes for Friday) and instead have gone with a homage to the fine Irish beverage. In the form of dessert.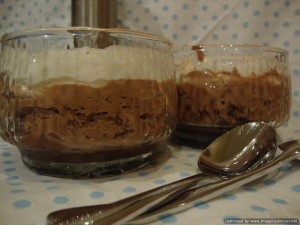 If you squint a bit, it could be a glass of Guiness. I should have served it on different glasses.
Whatever you are doing, I hope you enjoy St Patrick's Day, and I hope the best day of your past is the worst day of your future.