If I tell you that the only joke I can ever remember is the Honda pants joke my mother used to tell me when I was smaller, you will believe me when I tell you I am not a funny person. Which is not to say that I don't love comedy, because I do. Well some of it: I never 'got' the humour in The Office, or Knocked Up, or Dumb and Dumber. I really enjoy live comedy though, and have recently seen Omid Djalili (annoyingly didn't start my contractions, despite laughing so hard I wedged myself in the chair) and Stephen K Amos (who is terrifyingly tall and deals very well with stupid hecklers.)
But though I am not funny, I do appreciate those who have the gift of humour, and I think that Red Nose Day is a brilliant cause. I guess I've grown up with it, since the first RND was back in 1988 when I was about to be a teenager. I've worn the red noses, brought my pound into school so I could wear mufti and sung along to the many charity records. This year, I bought a fabulous Liberty bag at TKMaxx and some Deeley Boppers at Oxfam for the Girls. And I made Red Nose Cakes for playgroup in return for donations to a worthy cause.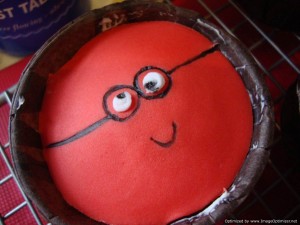 They're very easy really all you need is:
a batch of Fairy Cakes (I whizzed up Glace cherries in mine as I made them in the Magimix)
black icing/black edible pen
Buttercream icing/frosting
Once your cakes are cold, cover them in a thin layer of buttercream. It doesn't matter if they are very domed because they are red noses!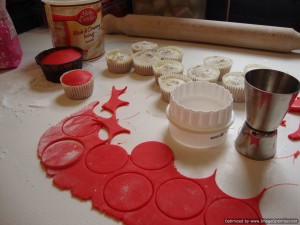 Roll out the red fondant icing to 3-4mm thick. Using a cutter that is marginally larger than the diameter of the cakes (to compensate for the domed tops) cut out the corresponding number of tops. Centre each one on the iced cakes and press in place. You can also press the icing slightly to 'squidge' it to the edges. Leave to firm up then decorate with the royal icing and black edible felt-tip. Enjoy!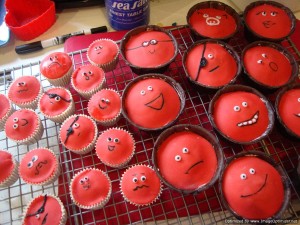 You can get more information on doing something funny for money at the RND website, where there are TV listings and live feed from twitter. Or follow @MrsStephenFry who has the inside knowledge on such things and is hosting #RedTweetDay tomorrow!
Please also take a moment in your busy funny day to buy cakes for Japan or have a Day of Silence for Japan with love.