Roald Dahl Day is a new thing for me. As was the request for a costume at fairly short notice.
I know my daughter and costumes: she is highly sensitive and thus costumes have a social terror attached to them that I cannot begin to understand. So I knew that she would need a costume that she could take off totally- to remove herself from a stressful situation- but that she would need a costume- to follow the school request, which is law in her eyes, and to match with the other children. She adores her uniform for this reason.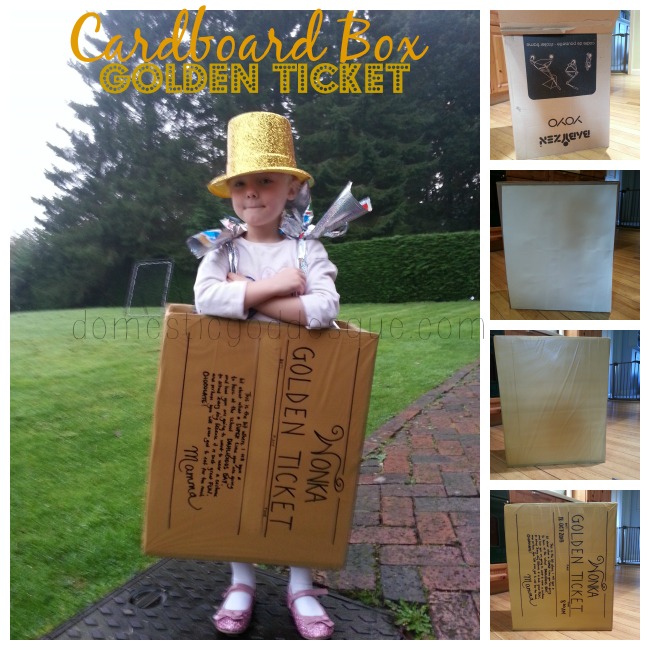 So I took a cardboard box, a gold plastic table cloth, and a party banner, both of which I bought in our local party store, and turned them into a Golden Ticket costume. An essential ingredient of the classic Roald Dahl book, as well as something that she could wear over her 'ordinary' clothes.
It really is very simple to make. Cut the top and bottom flaps from your box so that you are left with a square tube. My box had writing on so I covered the sides with plain paper.
Then I wrapped the box in a double layer of plastic tablecloth, securing with double-sided sticky tape, so the whole thing took no time at all.
I used a black marker pen to add detailed wording to the box- I loosely copied an image I found through a Google search- then added the banner, which I had cut into four lengths, using more double-sided tape and staples.
I added a sparkly gold hat to finish the outfit. It was the thing she loved most about her costume and she wore it all day!
Got other cardboard boxes?
Why not make a Gingerbread House?
Maybe an Eiffel Tower Costume?
A number or letter pinata or door hanging?
Or check out the Red Ted Art Cardboard Box hangout for more Cardboard Crafting Ideas.