I was recently invited to London to a secret location where I was plied with the Finest food and wine. The Tesco Finest range, which first hit our shelves fifteen years ago, has had a nip and a tuck and some slick new packaging. There are 1500 reasons for trying the range, but I'm going to give you ten reasons for taking a fresh look at the new look Finest range: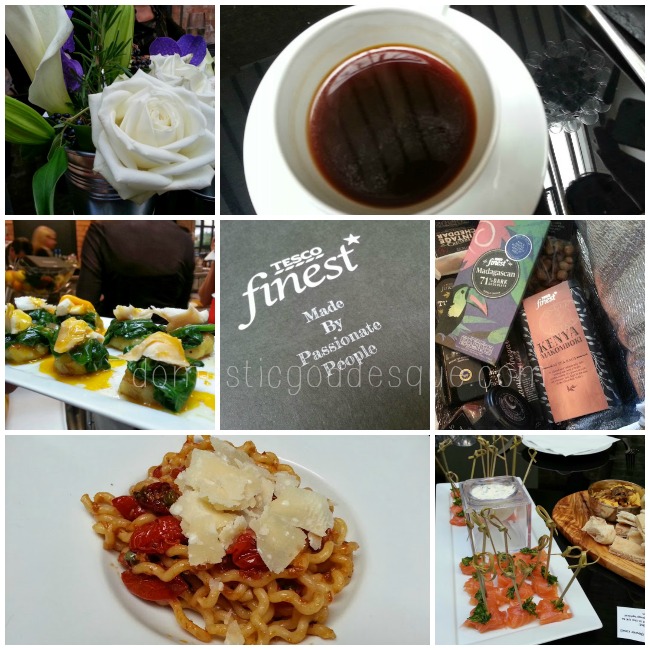 1. Mushrooms: foragers go out at dawn to hunt down the choicest wild girolles in secret locations. Cradled in wicker baskets, the mushrooms are responsibly grown in carefully-guarded secrecy so that you can enjoy them every season at their best.
2. Pasta: pasta with real soul comes from a pasta business that has been in the Di Martino family for over 100 years. They continue to dry their pasta the way they always have, which results in a fabulous taste and great texture that you want to have on your plate.
3. Chutney: as I sat to eat, a friend leaned over and whispered that somewhere on the table was 'orgasmic chutney' that she heard about from someone else. We found it on a platter wedged between toasted brioche and duck pate. She wasn't wrong. There are no pictures of the chutney for a reason.
4. Coffee: Ka'u (pronounced like the bovine but without a hint of manure) comes from a pocket of growers in far flung Hawaii. It's velvety smooth with a great almost chocolatey flavour that is perfect after a long lunch. And it goes very well with Red Velvet Cake. I shall be buying it when it hits the shelves.
5. Smoked Haddock: three generations of Tummeys are behind the Grimsby smokery that produces the Finest smoked haddock. The 30 foot chimneys are so essential to the flavour that they are now protected, and work every day to give you a beautifully firm and perfectly smoked fish.
6. Beef: Traditional farming methods and an authenticated blood line mean you know exactly what you are getting with Finest Beef. The steak is dry-aged, which gives the tenderest, flavourful cuts of meat. So good it's like eating butter…..
7. Black Cardamom: the Finest team toured India and brought back authentic flavours to add to their classic Indian dishes. They introduced black cardamom for a smokey flavour and charmagaz (melon seeds) for nutty bite, fusing flavour and authenticity in every bowlful.
8. Red Velvet Cake: moist, decadent and very, very, red, the three-layer Red Velvet Cake is hand-decorated with thick buttery frosting that hides the violent colour of the interior. Perfect with a cup of Finest coffee. I checked. Twice.
9. Anglesey salt: mussels filter 9 pints of water an hour. The mussels in the Menai straight make the water that Mr Lea-Wilson uses as pure as you will get anywhere. He hand harvests his slightly sweet-tasting sea salt from the mussel-filtered water.
10. Passion: the thing that connects the Finest range, above all else, is the passion. Whether growing, sourcing or selling, every person in the Tesco Finest process is passionate about food. It shows.