All this Great British Bake Off talk has been adding inches to my waistline. I keep feeling the urge to bake. Most of my offerings get burned to a cinder in the Aga or snaffled so quickly that I have few pictures to show for my work. But this is too good not to share.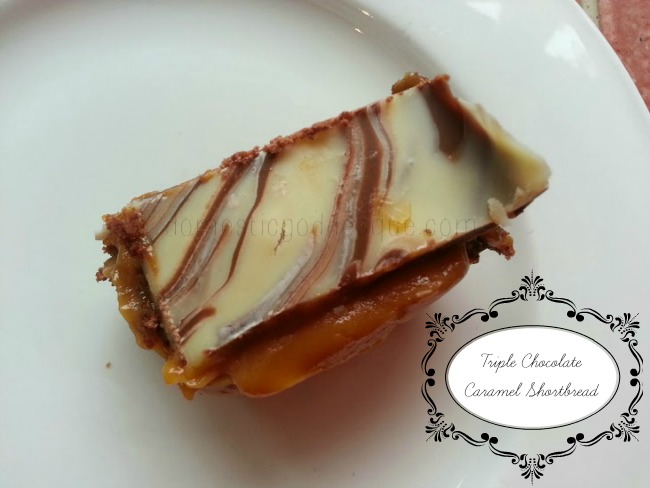 You take a basic Chocolate Caramel Shortbread- these days referred to as Millionaires' Shortbread-  and whack up the chocolate. Chocolate shortbread base, salted caramel gooey middle and then a marbled chocolate topping. And totally calorie-free, assuming you have just run a marathon and your body burns up fat like a power station.
Ingredients:
175g butter
85g light brown sugar
200g plain flour
25g cocoa powder.
I just whizzed it all up in the blender: the softer the butter the quicker and easier this process is. Press into a lined tin- I actually just used 2/3rd this amount and lined a loaf tin to make a small batch. Bake in a warm oven (160C) for around 12-15 minutes, then leave to cool in the tin.
I used ready made caramel to which I added a level teaspoon of sea salt, mixed well then smeared over the top of the shortbread. I chilled in the fridge whilst I melted 100g each white and milk chocolate in two pans.
Once the chocolate was melted, I poured the milk chocolate over the caramel shortbread, then marbled through the white chocolate. To do this, you dollop spoonfuls of the white chocolate strategically across the milk, then swirl through with a clean knife. Chill until the chocolate has set firmly, then slice and serve.
Obviously you get quite a thick layer of both shortbread and chocolate with a thinner layer of caramel. So slicing can make an oozey mess. Go with it.