I've written before about how my bed would be my Desert Island luxury: there is nothing that cannot be fixed by a couple of hours sandwiched between sheet and duvet, particularly when life gives you the mother of all headaches. A hotel is always more welcoming if the bed is good, even camping can be improved with the right duvet and pillow, though it makes packing the car more challenging.
The thing is, having just moved house, we are at sixes and sevens: there are boxes which haven't been unpacked and the ones that have keep getting boxed up again as the painter and the electrician move from room to room. Our bedroom looks more like a Lost Property Department than a retreat whilst we await the knocking down of walls that precipitates our new 'Master Suite'.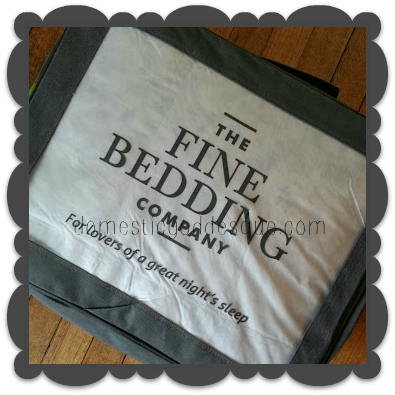 But I still need my retreat from the crazy world I inhabit and the headaches that come with it: the world of endless doorbells, tea-making,  and calls needing extra directions because they can't find the house. The Fine Bedding Company understood my pain. They are on a mission to transform the way the nation sleeps and asked me to fill in a short questionnaire about my sleep habits, and they sent me my perfect duvet: 10 and a half togs of Duck feather and down cocooned in soft white cotton, and all packaged in a fabulous reusable storage bag for when summer returns once again and I need a lighter duvet. That, my friend, is luxury (do please say that in a Yorkshire accent: it sounds so much more significant somehow.)
Because once the lights are off, especially this far from the outer reaches of the Metropolis of London,which has a 24 hour glow of streetlights and nightlife, you cannot see anything: no as-yet-unpacked boxes, no bare lightbulbs, no 1980′s wardrobes or woodchip wallpaper. Wrapped in the reassuring weight of a deliciously fine natural duvet, all you have is the sensation of floating away on a feather cloud to dreamland. Who wouldn't want that in their bedroom?
My three steps to sleep heaven:
1. A good night's sleep starts with a good duvet: The Fine Bedding Company have a sleep consultant who can advise you about the best kind of duvet for you
2. Clean crisp bedding. Use lavender scented fabric softener to help encourage slumber.
3. A good mattress: what you are sleeping on is as inportant as what you are sleeping under! Ours is ten years old so we are on the look out for a new one.
For the best tips for getting the best night's sleep, join the conversation on The Fine Bedding Company Facebook page. They have a competition to win a hotel stay and £250 of bedding. To enter people simply upload a photo of your own "sleeping beauties" before 18th November 2013 and tell them why it sums up beautiful sleep.
 *Disclosure: we were sent the our duvet by The Fine Bedding Company for the purposes of writing this post.