It's that time of year: we're three quarters of the way through the summer holidays and a new school year is looming. So it is time to think uniform. More specifically, it's time to consider how to name the uniform you spend your money on so that it doesn't go astray.
With my two girls moving school over the holidays, I have a whole set of uniform to name, and the new school insists not only that you sew on nametapes, but also where you sew them on. I have my work cut out for me in the next two weeks! But if you aren't restricted by regulations, I've been asking around and these are my Tips for Naming School Uniform: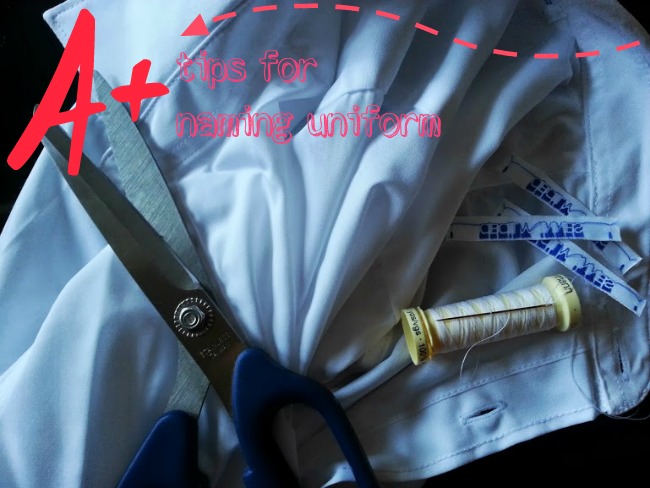 1. Up until this year, I have been using Stamptastic. I cannot recommend them enough: a simple stamp and the naming is done. Works on clothes, shoes, bottles, bags and scooters. Don't believe me? Here are some other fans:
Stamptastic for me, they are so simple and work brilliantly. The Ana Mum Diary
My stamptastic stamp is the best ever. Stamped everything of the twins from school uniform to shoes & even armbands & scooters Lisa Gillies
STAMPTASTIC all the way too. Alexander Residence 
Stamptastic all the way…lasts for ages on clothes and water bottles/lunch boxes.  Crazy Kitchen
2. As recommended by a friend- Attachatag is a woven tape that attaches with a pin. So easy to do, you can get the children to name their own. And reusable too.
3. Stuck on You do a fabulous range of stick-on labels, which I used when my girls were in Nursery.
The sticky labels from Stuck On You are good for water bottles and dishwasher safe. Mummy Mummy Mum
4. Good old woven name tapes- mine are from woven labels. I have memories of summer holidays spent sewing my own tapes- Cash's of course- into all my uniform. There's no doubt that if you do it well, those names are never coming out!
I'm a big fan if the traditional woven name tapes sewn in. Once in place no problems of names fading or tapes falling off.  Www.beingmrsc.com
Another vote for sew in name tapes (for uniform) – They take 5 mins to sew in and you never ever have to worry about them falling out/fading etc – plus, if you just sew the ends, you end up with a handy loop for hanging up clothes on pegs etc.http://imcountingufoz.com
I am disheartened with iron-on ones (and I have to find the iron!) so have resorted to sew in ones – I quiet enjoy an evening with the TV and sewing kit! www.cheetahsinmyshoes.com
5. Permanent marker. Indelible ink is an excellent way to name things, and Sharpies are awesome- I always have one to hand. It does rely on legible penmanship though!
Sharpie pens! Www.tiredmummyoftwo.co.uk
Sharpies for me Diary of a Frugal Family
the one and only way is with a SHARPIE waterproof marker. Quick and doesn't fall out. @sian to
Other suggestions for naming your child's things include: