We got to spend the night at the Four Season's Canary Wharf, in conjunction with Luxury and Little Ones, a site which- to quote one David Cameron- does exactly what it says on the tin: it offers you a selection of incredibly luxurious hotels which genuinely cater for families.
I don't mean that they can dig out a high-chair if you really need one, I mean that they go out of their way to make sure that you little ones have the greatest stay of their lives. And this is certainly true of our stay at the Four Season's Canary Wharf.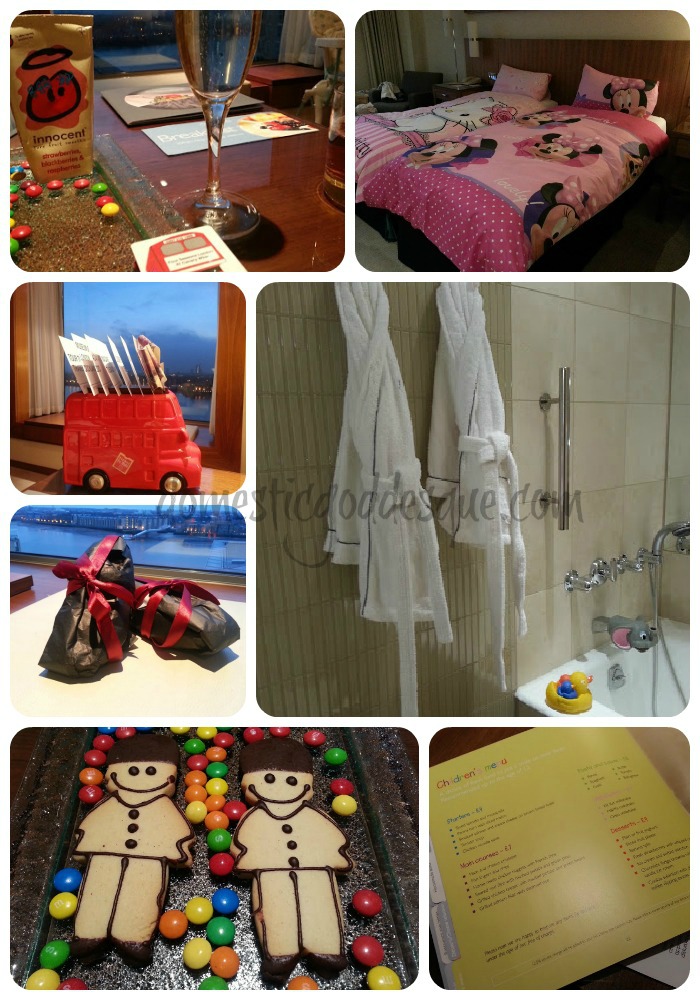 On arrival, LBG and Dimples were greeted by name, made a fuss of and- most importantly- given their very own key-cards with bus logo on them. At this point we could have gone home with two very happy children, so you can imagine their utter joy when they saw their beds, which were made up with very pink Hello Kitty and Minnie Mouse bedding. I'm assuming that the glass in the room is reinforced, because it withstood about 20 minutes of squeals and shrieking and general hysteria at everything: the colouring books, the welcome plate of snacks (including handmade Horseguard Biscuits), the ducks waiting in the bathtub, the teeny-tiny bathrobes.
As parents, that kind of attention made our stay the stuff of dreams: that The Girls were so well taken care of, so happy, made us happy. I don't think that the effect of someone taking good care of your children can be underestimated: it would bring us back somewhere time and again, because it does feel like a break.
Interconnecting rooms gave us the space to spread out, which is good, because within about five minutes The Girls had unpacked all their toys and were busy making a My Little Pony fantasy land that stretched across both rooms. DH was happily installed in front of the TV, and I just sat watching the view of the river change as night drew in. If you are staying here, request a river view. It is quite breathtaking, and kept us all thoroughly occupied watching the boats and the planes and the tide. I could have sat on the window seat all day just watching.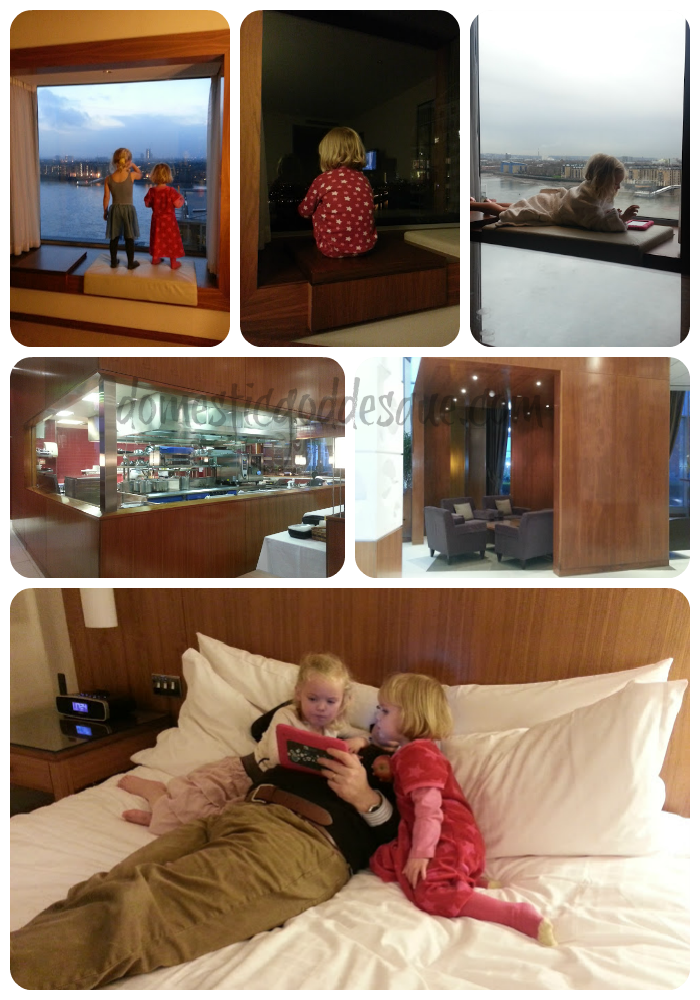 We ordered room service, because the effort of getting The Girls out of their bathrobes was too great for us to bear. There was a whole page of the menu devoted to children's food: everything from chicken nuggets to steamed salmon and rice, and food for the Under Two's was free. LBG declared her pasta to be 'the best ever'- a popular phrase during our stay- and Dimples only surrendered her (plane-shaped) plate when she saw the dessert. DH and I were very happy with the sizeable burgers, which were delicious, and unexpected cocktail tray, and made the most of the hotel stay by ordering a movie and sipping the complimentary make-them-yourself Passionfruit Martinis and almost forgetting that the children were with us.
Breakfast downstairs after an incredibly comfortable night's sleep was another happy experience for The Girls. Special menus for children (and free to the Under-Fives! Hurrah!) and a delicious continental buffet. They enjoyed watching their delicious chocolate chip pancakes being cooked through the viewing window in the kitchen 'cube', and gobbled up the teeny-tiny fruit shots. I tucked in to the lightest Eggs Benedict I have ever tasted whilst DH worked his way through the buffet. Oh, and excellent coffee- a parental staple.
The swimming pool, a short walk across the hotel gardens, is open to children daily between 9 and 11. A pool is a hotel essential for us these days, since The Girls are becoming little water babies, and this infinity pool overlooks the river, is beautifully designed and was the perfect morning activity before leaving. If we had been staying longer, I'd have been very keen to visit Mudchute Farm, go on the DLR, have supper in Canary Wharf and go to the nearby Tower of London. The hotel is a great location for getting in to London too: the nearest ferry is only a minute's walk away.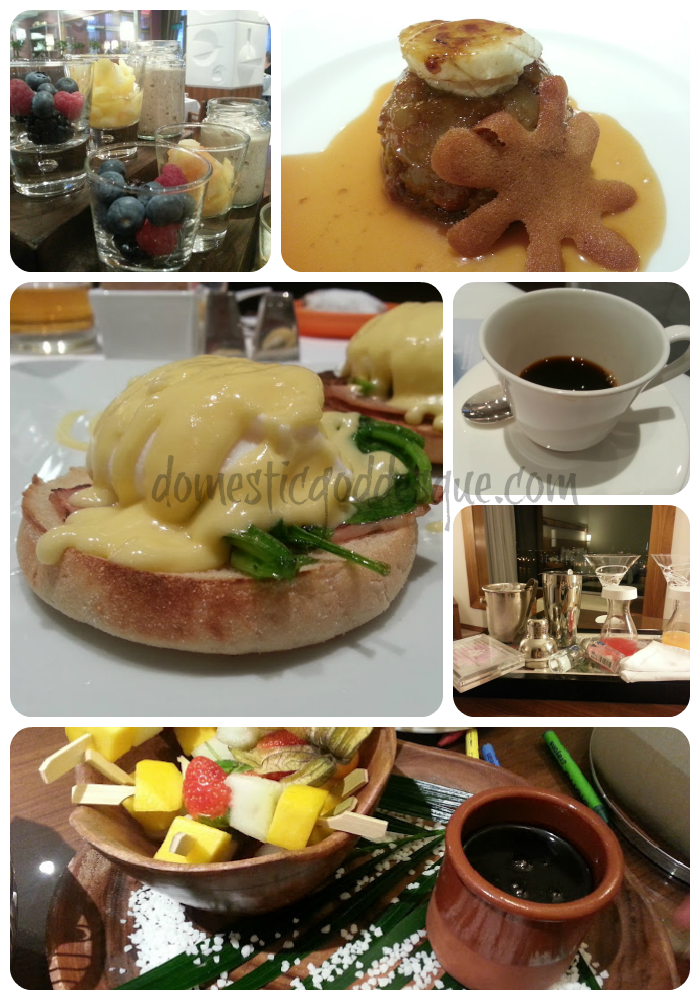 The staff at The Four Seasons Canary Wharf went out of their way to make us feel comfortable, and make my children feel special. We have done nothing but talk about our stay since we were there, and the only teensy criticism we could find was that they could have offered child-friendly cups and bowls in addition to the plates. It was hard work finding anything to criticise.
*disclosure: We spent the night as guests of Four Season's Canary Wharf for the purposes of this review. All opinions are our own. In fact, I toned the excitement down a touch. Or two.