There is something about Christmas and snow-globes that go together very well. It's probably the snow. I'm pointing out the obvious, so lets just move on, shall we?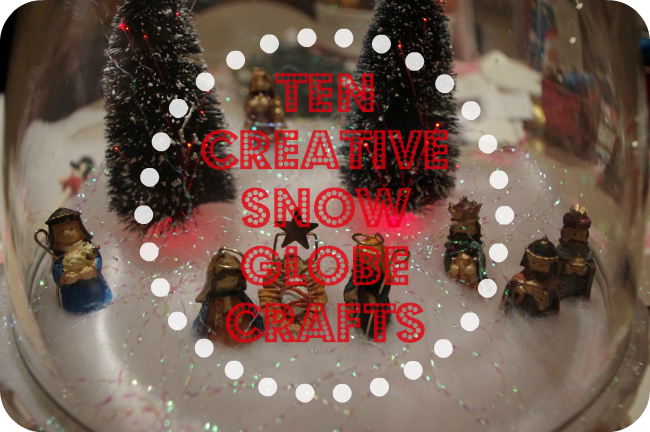 I love and adore my daughter, but I do not trust her with a jar full of liquid and glitter. So she and I created a snow-free Nativity scene using a cake stand, nativity set and fibre-optic Christmas trees and snow that I got from Poundland.
I used the cake stand as a template to cut out the fabric snow as a base for the scene. In order to insert the trees, I cut slits from the edge to the rough location of the tree. This hid the wires, the tree base and battery pack.
Once we were happy with the trees, Dimples had to place the Baby Jesus and other Nativity characters (to stand them on the the snow, I found I needed to cut little slits so that they were standing on the cake plate rather than the snow.)
We sprinkled liberally with glitter and stuff and cover with your cake dome (in this case a large mixing bowl, since the actual cake dome didn't fit over the trees. Lesson learned.)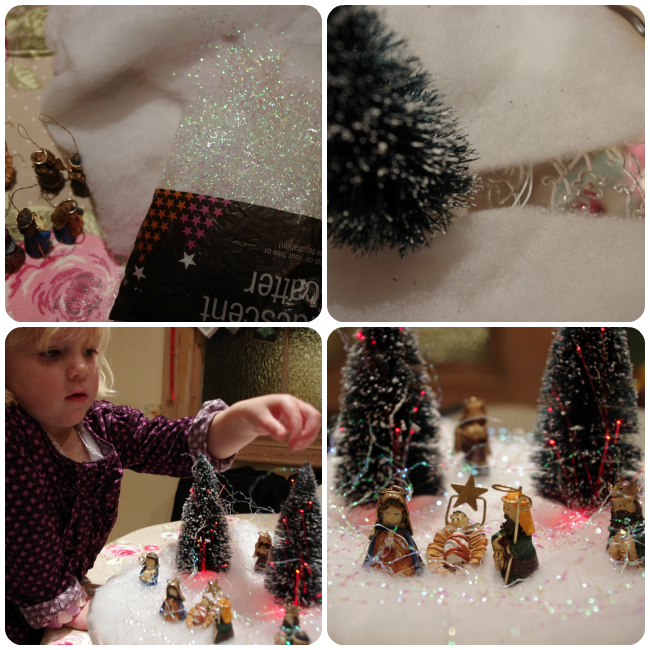 For other snow globe ideas, why not check out these brilliant posts.
How to make a snow globe, from Who's the Mummy
I Spy Snow Globes, at Reading Confetti
Snow Globe Ornaments from Craft Elf
Solar System snow globe from Red Ted Art
Personalised Snow Globe at Our Best Bites
Edible snow globes by Sun Scholars
Snow globe cookies at Cut Out and Keep
Paper Plate Snow globe from Little Fun; Little Learning
Ziplock Snow Globe at De Tout et De Rien
Snow Globe Soap from AlphaMom
Bubble snowglobes by In Lieu of  Preschool
Snow Globe place cards from Make and Takes
Snowman Snow Globe  by Glittering Muffins
Snow Globe soap dispenser at Dollar Store Crafts