We all love that fresh, clean feeling of getting into a newly made bed. And as the winter months draw in, getting a good night's sleep is even more important to help get us through the cold, dark days.
In fact, new research by Lenor has found that a staggering 83% of Brits go on to have an unproductive day if they've not slept in clean, fresh bed sheets and 71% claim that sleeping in fusty sheets makes them unhappy. Unfortunately for most, a mere 5% of people feel that the clean, freshly washed feeling of newly laundered bed sheets lasts for more than a couple of days.
Lenor gives fabric up to seven times longer lasting freshness by releasing scent through touch to keep them fresh and fragrant for longer – helping turn Fresh Sheet Day into Fresh Sheet Week!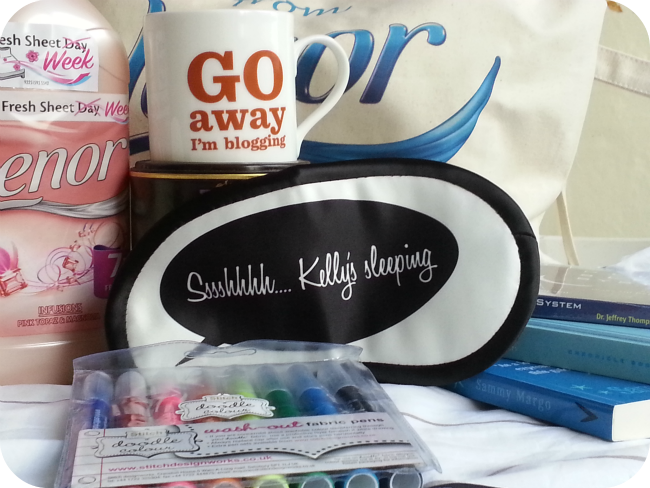 So what's the challenge? With the help of resident Sleep Expert, Sammy Margo, Lenor have put together some Sleep Sacks full of little tricks that can help you get some quality Zs…
·         Doodle pillowcase: for last minute to-do-lists so there's one less thing on your mind before you drift off
·         Sleep mask: eliminating light can help you fall into a deeper slumber
·         Hot Chocolate & mug: a warm drink before bedtime can help you relax
·         Sleep Sounds CD:  to help you nod off easier
·         The Good Sleep Guide: written by physiotherapist Sammy Margo,  an essential guide to a good night's rest
·         New Lenor Pink Topaz & Magnolia: with its delicate feminine scent it will help keep your sheets fresh all week
Using the kit, I've been monitoring my sleeping habits for one week and keeping a sleep diary. It's tragic reading which has more to do with my children's nocturnal disturbances than the scent of my bedding, but they've been analysed by Sammy who will be able to offer bespoke advice on how I can improve the quality of my sleep, helping me wake up more refreshed and rejuvenated.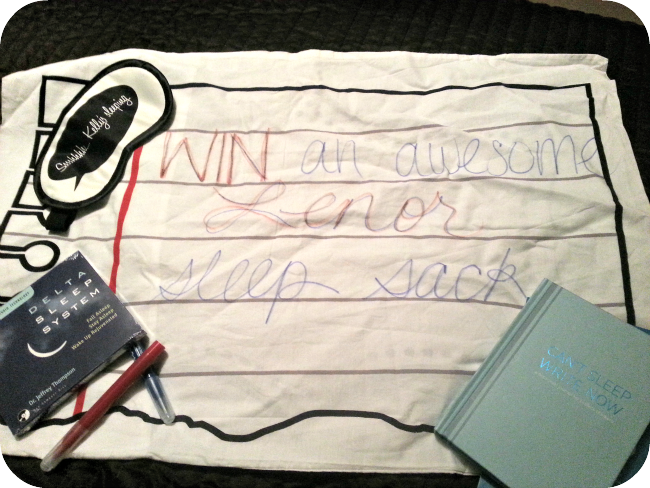 If you want a sleep sack of your very own, then pay attention. Leave a comment with your top tip for a good night's sleep, along with a method of contacting you.
For a bonus entry, tweet about the competition, and leave a second comment telling me you have done so, together with your twitter id.
A winner will be chosen using a random number generator after the competition closes at midnight GMT on 07/01/2013. The prize will be dispatched directly by Lenor, and you must be over 18 to enter. UK only, sorry. If I have received no response 72 hours after contacting the winner, the prize will be redrawn. Products received may vary slightly from those shown.
GIVEAWAY NOW CLOSED AND WINNER HAS BEEN NOTIFIED.