I was reminded today of how lucky I am to live on the doorstep of London, with all the distraction and entertainment that it offers. When I was younger and based in Yorkshire, London was a place filled with mystery and excitement. If you have a trip planned to make the most of the half-term break, then allow me to make a few suggestions of things to do:
1. Lunch at the Kensington Hotel: set back from the madness around South Kensington station on a leafy, wide avenue, is the beautiful Kensington Hotel. Recently renovated, the hotel boasts fabulous facilities. But should your budget not stretch to an overnight visit, I do recommend lunch there. The children's menu is superb: the dishes are made to order and themed around popular children's characters. We were invited along to try the menu out over the summer and I cannot rate the food highly enough. The Girls loved  their meals: LBG had a hand-made pizza and Dimples' a teeny tiny burger, replete with chips in a teeny tiny wire cage and they had no difficulties in finishing off every mouthful. Desserts were beyond excellent: divine home-made ice-creams, delightful fruit kebabs with chocolate dipping sauce, heavenly chocolate cake. And the attentions that were paid to the children were the reason that I recommend it more than anything else. If you cater firstly for my children and then for me, you are an establishment that I will always go back to.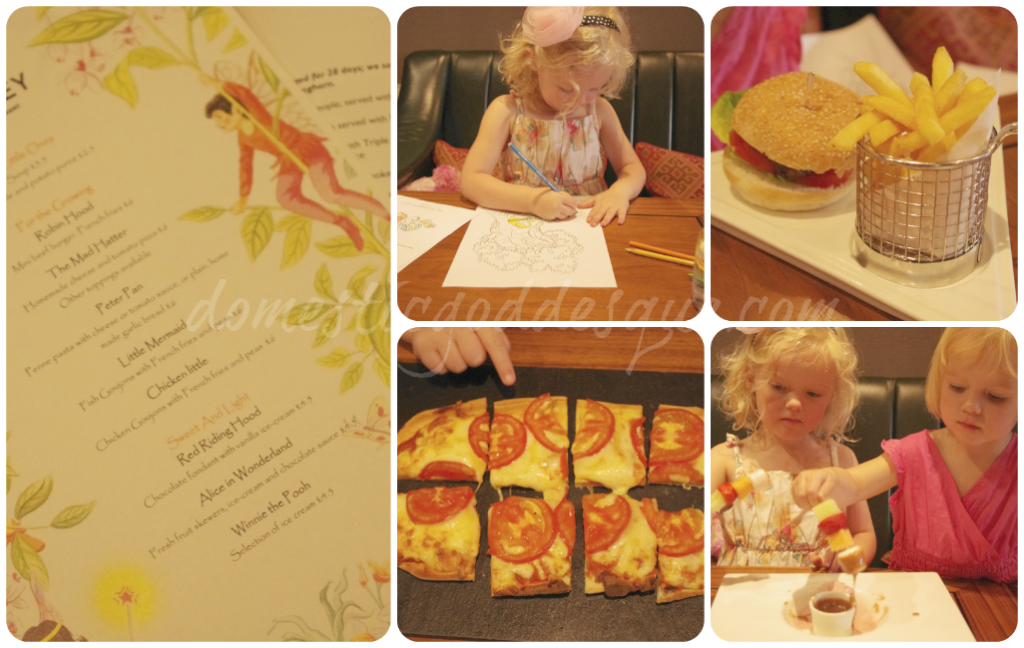 2. Go To Midtown  Buzzbee Trail: if you are in the Bloomsbury, Holborn & St Giles area of London, you may have noticed bees. More specifically, you may have noticed Buzzbee, the mascot for Go To Midtown, which promotes the wealth of things to do in this area of London, which is often overlooked by visitors. There is a visitors' centre which can furnish you with maps and taxis and give you more information about the trails and the things you can find to do on them. You can also buy honey there, produced from Buzzbee's friends that visit the 12 plant locks around the area (but which actually live on some of the area's office roofs). We have enjoyed taking spotting the bees several times when visiting DH at work in Chancery Lane and can recommend it, not least because it opens up your eyes to parts of London- children's parks, quiet streets, unexpected cafes and restaurants- that you wouldn't otherwise have discovered.
3. British Museum and Cafe: the British Museum is visited by some 6 million people every year and is Britain's most popular tourist destination. It's no wonder when there are so many exhibits to see. The bulk of the museum is free, with a charge for special exhibitions. But there is more than enough for everyone to enjoy. I imagine that you could visit every day for months and still not see it all. The cafe is excellent: a wonderful range of home-cooked food, good portion sizes and excellent value. The Girls and I took a well-earned rest from our BuzzBee trail there and have only positive things to say about our experiences.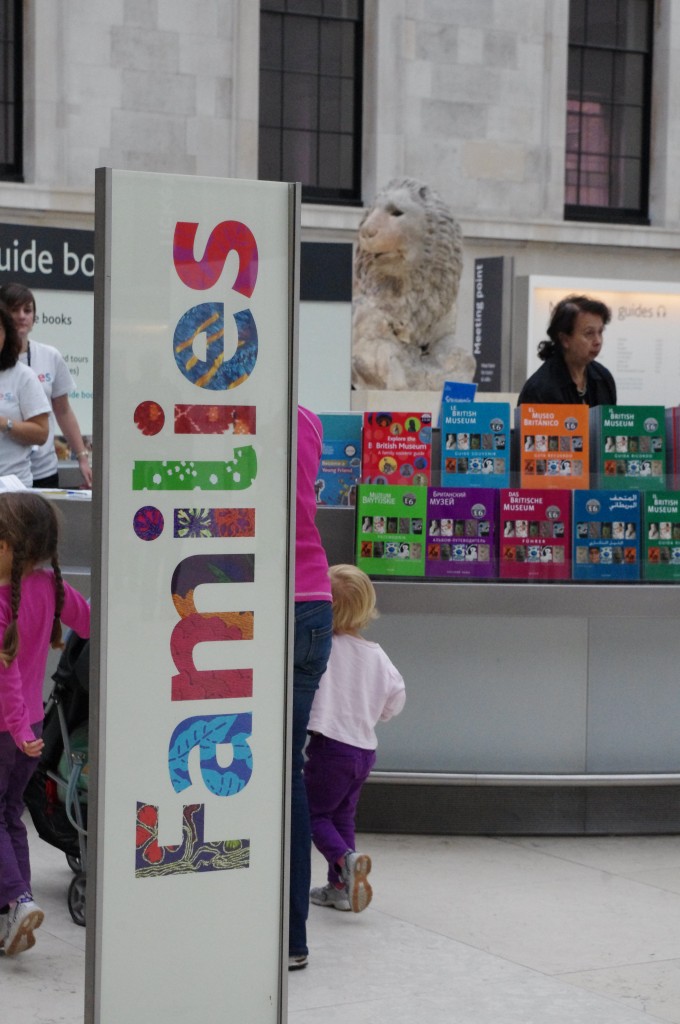 4. Westfield Stratford: the newest of the Westfield Centres is offering a range of activities for children this half-term, if you didn't fancy heading in to Central London. Or the rain. And you have the added advantage of being able to squeeze in a little shopping whilst you are at it! So if you fancy Face-Painting, Badge-Making or Light Sabre Play Day, Westfield is the place for you! Check out their Half-Term Activities Schedule for full details.
5. The Number 11 bus: this is my top insider tip. For a fraction of the cost of some of the tourist trail bus routes, the number 11 bus will take you from Fulham to Liverpool Street, through some of the most well-known parts of London. Hop off at Beaufort Street and stop for coffee or a bite to eat at Beaufort House (my new favourite place), and saunter along the famous Kings Road, or get back on and save your legs. At Grosvenor Gardens you can walk across to Buckingham Palace and see if you can spot the Queen in the window, or stay on board and try to spy David Cameron at Number 10 Downing Street. Other sites on the route include Trafalgar Square, Aldwych, The Royal Courts of Justice, St. Paul's Cathedral and Threadneedle Street.
*disclosure: The Girls and I were given lunch at The Kensington Hotel for the purposes of this review. We were also invited to try the BuzzBee trail  for review purposes and were given a goodie bag. They have no bearing on our opinions which are honest and very positive. The Girls don't mince their words.