We were sent some Special K Crackers to review. I'm not a crisps person ordinarily so the ferocity with which I consumed these once the pack was alarming enough for DH to remove them to the 'safety' of a business trip to Leeds. Crisp as a poppadum and with a delightfully sweet and hot Sweet Chilli flavour, they definitely hit the pre-dinner-munchies spot. And at only 95 calories per serving versus 154 in a standard sized bag of salted Kettles Chips [proper kitchen-cupboard research there], they are as good for the waist as the taste-buds.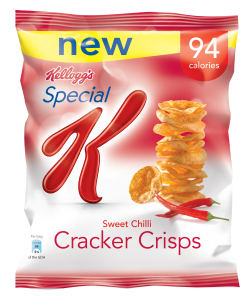 Oh, and remember the lovely people at Cussons Mum and Me? I'd all but forgotten that they committed me to tape for posterity as part of the #realmumconfession campaign. Take a look.
I Wondered if you'd seen the Coca-Cola Work it Out Calculator? Designed in association with ex-Olympian and professor Dr Greg Whyte the App shows you can get the balance between calorie intake and calorie-burning with everyday activities such as hoovering or window cleaning as well as through 'conventional' exercise such as walking or swimming. Select a Coca-Cola drink and an activity category from the list and you will learn how long you'd need to spend doing each activity in order to 'burn off' the calories contained in your drink.
And finally, I have a new widget myself. Have you noticed the Center Parcs badge? In conjunction with Tots 100, I have been selected to form part of the 'Divine Dozen' [that is totally my line, by the way, but I'd be happy to sell to the highest bidder) Center Parcs Bloggers. Over the next ten months, I'll have a monthly challenge to take part in and the DG Family also get to review the Center Parcs in Longleat at some point. My Pinterest board won them over, as did the fact that I was prepared to have my face covered in stickers by small children in order to keep them amused. It's fair to say I do need to get out more….
*disclosure: where stated products were sent for the purposes of review. All opinions are honest, and my own.