Dimples doesn't like spiders. Last time she saw one in the bathtub, she refused to physically enter the room for a week, and we had to work gradually on her standing next to the tub, playing with the water, before eventually reintroducing her to baths. It was painful. For us all.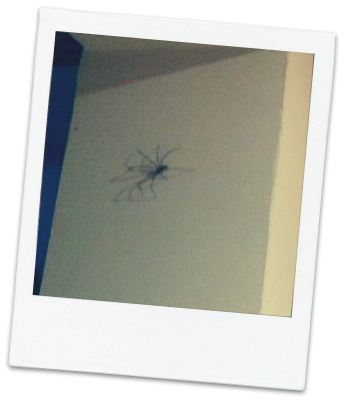 So, last weekend, when I spotted another (or maybe the same idiotic) spider, I was swift to act. After mere moments, our Arachnid found himself washed down the plughole. Job done, I used the facilities. Needless to say, having two small children, the doors are rarely locked in our home, so it was not unusual for LBG to come into the room whilst I was mid-wee to have a chat.
Of course, whilst chatting she discovered the spider had come back up the plughole and was in the tub again, and screamed at the top of her lungs (and possibly at the top of the range of notes that can be heard by humans.) And thus I found myself needing to shush LBG, explain the issue to DH and get him to keep Dimples out of the room, all whilst  trying to do up my trousers.
Once order had been restored, I was followed by LBG as I found some kitchen roll, scooped up Incy Wincy and deposited him with as much care as possible out of the bathroom window.
"Where is the spider? Is the bathroom safe now?"
"Mamma has put him outside, sweetie. Don't worry"
"But is he alright? It's a long way for him to fall and he is so very small!"
"Darling, don't worry, he went onto the playroom roof, and hasn't been hurt. Spiders are very agile."
"But when will he come back? I miss my spider friend so much."
Sigh.