A few weeks ago I tagged on to the tail end of a conversation about crafting with leftover Nespresso capsules and boxes. As a Nespresso fan, I stuck my nose in and before you could say "curiosity killed the cat" I found myself agreeing to get involved in Feisty Tapas' #NespressoChallenge.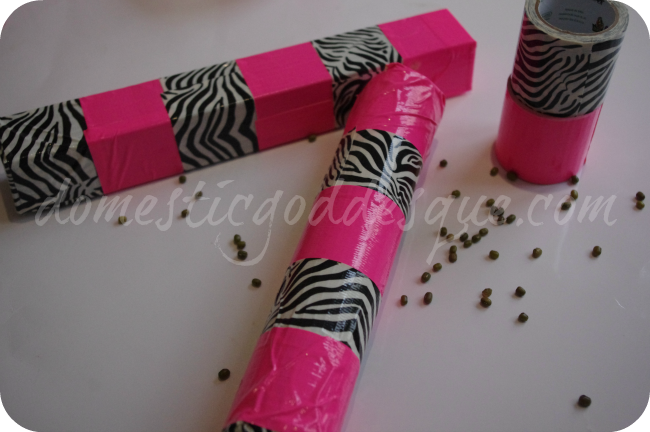 When I was in the States a few weeks ago, I stocked up on lots of fun craft stuff that is hard to come by over here, including a few rolls of coloured Duct Tape. When Dimples and I decided to make musical instruments today, I knew the time had come to use it.
To make the Maracas- or Rainmakers- is very simple. In the case of the Nespresso tube, just pour in a handful or two of dried pulses (I used Mung Beans), then seal the end with Duct Tape. Unsurprisingly Dimples chose the pink tape. Which she then 'accessorised' with Zebra-print. I followed her instructions, and covered the entire tube in duct tape, then let her go mad with stick-on-gems whilst I made a second maraca from a kitchen roll tube.
If you have two children, you will understand why a second tube maraca was necessary. Because it was made from a kitchen roll, I had to seal both ends, so I used a wax disc (from jam making) which I taped in place- to prevent the beans sticking to the underside of the tape. Then I filled the tube with more beans, sealed the other end, and decorated according to the Dimpled Ninja's directions, before she got to add a sprinkle of jewels.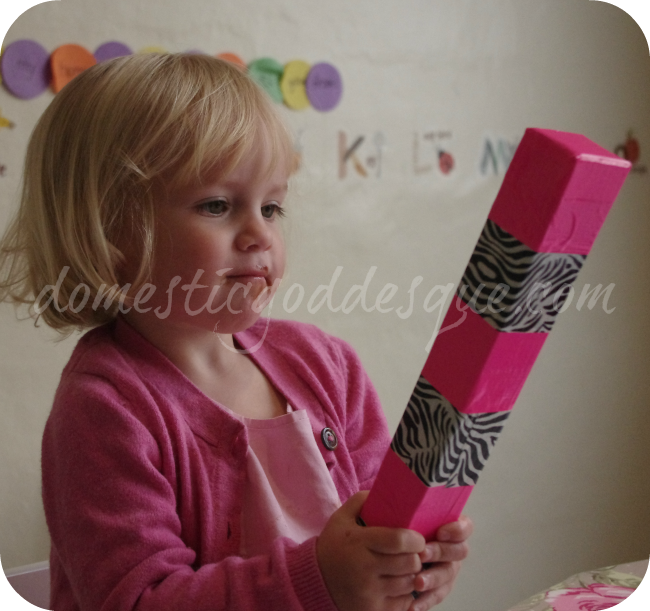 You could use a mix of pulses a dried pasta to create different sounds.