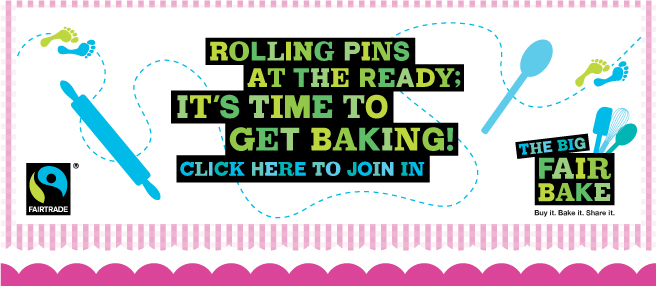 I'm joining in the Big Fair Bake, which is working this year with Tots100. This idea is that you bake something using Fairtrade ingredients and use it to spread the Fairtrade message. It's about getting a fair price for goods at source, rather than exploiting farmers and growers so that we can get things cheaply here in the UK.
I was inspired a while ago by the incredible coffee-based recipes that Utterly Mummy came up with, and have been meaning to make a coffee-based Streusel since. I first came across streusel (pronounced stroy-sel) when I was living in Frankfurt: they were like a cake, but with a fruit crumble on the top and I genuinely couldn't get enough of them. They are generally consumed with coffee, so it seemed to make sense to make a coffee and almond streusel.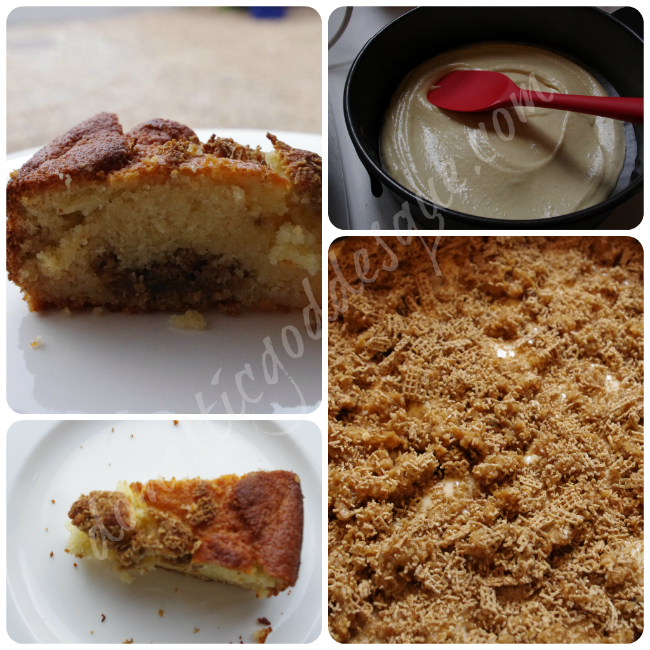 Ingredients:
Topping:
60g dark brown sugar
75g rolled oats
75g ground almonds
125g crushed walnuts
40g butter
1 shot of incredibly strong Fairtrade coffee
Cake:
125g plain flour
100g ground almonds
1 teaspoon baking powder
1/2 teaspoon Bicarbonate of Soda
115g butter, room temperature
200g caster sugar
2 large eggs
1 teaspoon Almond Extract
175ml of plain yogurt
Preheat oven to 180C, and grease and line a 9-inch round tin (mine is spring-form.)
For the topping: rub dry ingredients in a bowl with softened butter, as you would a crumble. Put to one side. Cool coffee.
For the cake: put all the ingredients in the processor until combined, then transfer to your tin. At this point, you should add the coffee to the topping and stir. This will make a sticky gloop which you should spread as best you can on top of the cake. I just used my fingers to break it into pieces. It was very sticky in truth.
Bake in the centre of the oven for 40 minutes, or until cooked. Leave to cool in the tin for a good ten minutes before attempting extraction. Because the streusel topping is more dense than the standard version, it will sink into the cake during cooking, but that won't affect the flavour.
Serve with coffee and a dollop of creme fraiche.
You can take part in the Big Fair Bake Challenge too: as part of the Take a Step campaign, everyone who buys and bakes with Fairtrade ingredients has a chance of winning a fabulous KitchenAid blender. Just visit the Fairtrade website and tell them who you're baking for. Simple!
Edited to add: this is one of those cakes that I thought would work as a concept and am unsure about the result. Whilst the almond flavour was very distinct, as was the coffee, and the two flavours worked very well together, the cake was not as I imagined it to be. I think perhaps I should have made a coffee-flavoured cake with an almond streusel topping so that you still had the flavour combination, but the streusel topping was more distinct and a different texture.