I recently travelled with two pre-schoolers to Arizona: that's a seven hour flight followed by a five hour flight. Twelve hours in a limited space where sound carries really well. But we survived (I'm drafting this before our return trip so may yet need to edit!) and this is what I packed to keep the Girls occupied on board and on our week-long road trip in the middle of our holiday.
mini pots of Playdough
stickers: so many stickers, girl-friendly as well as dots and rectangles
pens: markers, pencil crayons and Crayola twistables.
Paper: Wilkinsons have these great A5 sized books of tear-off paper, both white and coloured.
small figures from home: Mini My Little Ponies*, Playmobil people, farm animals
two inexpensive calculators (from 99p Store)
play money set (Tesco)
cooking sets I found online, printed and laminated.
white board and markers (Wilkinsons)
Lucky bags (Wilkinsons)
Mini Fuzzy Felt (The Works)
Teeny tiny tea set ( I want to say The Works…)
Electrical tape
I didn't take everything on the plane with me. I packed a bag for each girl which contained a couple of small books, a colouring 'set', and a children's magazine each, along with what I calculated would be enough 'treats' to have one every half-hour (and by treats, I mean a little sweet, a page of stickers, an animal, etc.). LBG, now 4, did very well just watching TV uninterrupted by her smaller sister. She and DH were in the  seats in front of us. Dimples used every single one of her treats, a well as eating, napping, and watching TV in ten minute bursts. They also had their precious blankies, and were allowed to take two soft toys each, which were packed with a spare set of clothes in their Trunkis.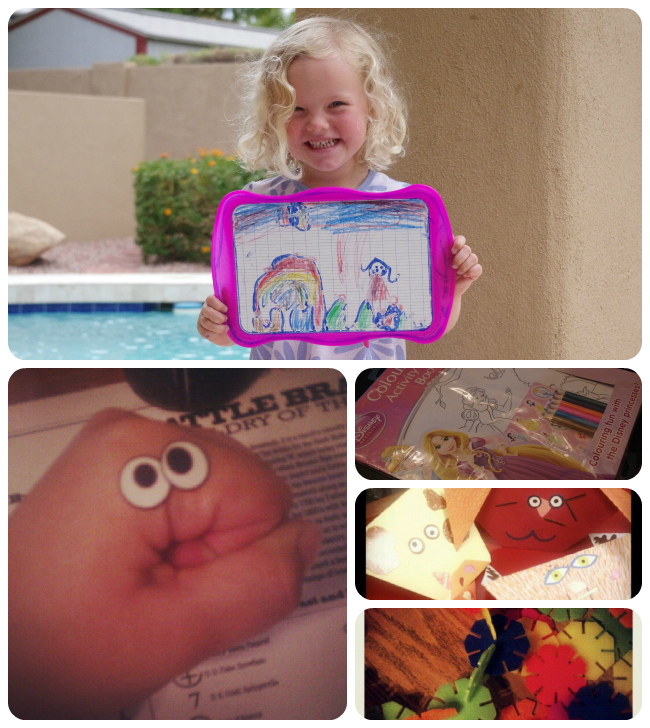 The other toys went in my luggage, and were rotated as needed for restaurants, car journeys and rainy afternoons in log cabins. I took several zip-lock bags into which I grouped the various bits that created their activity, so that I didn't get a whole bunch of stuff lost in the bottom of my bag.
How did I use them? Like this:
playdough + animals= footprints, tracking games, guess-the-footprints
playdough + teaset = afternoon tea, cake making, excavating….
paper + googly eye stickers = funny creatures (use crayons too)
magazines/finished colouring books +googly eye stickers = funny people. Lots of fun in this one.
googly eyes + body parts = comedy. DH and I made puppets using elbows, hands, cheeks….
calculator + pen +paper = 'adding', number copying,
the above + tea set = cafe games
the above + playdough = counting games
the above + money = shops
octagons + animals = farms. Use electrical tape to outline the farm area.
octagons + Playmobil = village
village + farm + electrical tape = very big small word play.
origami + pencils = puppets. Make a show, add extra eyes, play hide and seek.
coins + crayons + paper = rubbings
all of the above = mad scavenger hunt
You can also use the white board for: drawing, writing, battleships (using both), copying letters, numbers etc, "specials board" in the cafe game, "pricelist" for a shop game, check list for scavenger hunt.
Use the paper to: writing, play postcards, holiday diary, story telling- comic or storybook style (use the reading books or fuzzy felt as reference), draw maps, drawon a farm or house for small world play.
Spot stickers have many uses: make your own dot-to-dot, create shapes from the circles, draw images needing circles to complete them (caterpillar, car, ice-cream cone), finger twister, stick spots to various toys and get the children to sort them.
* you can substitute cars for the ponies if you have boys or car-mad girls