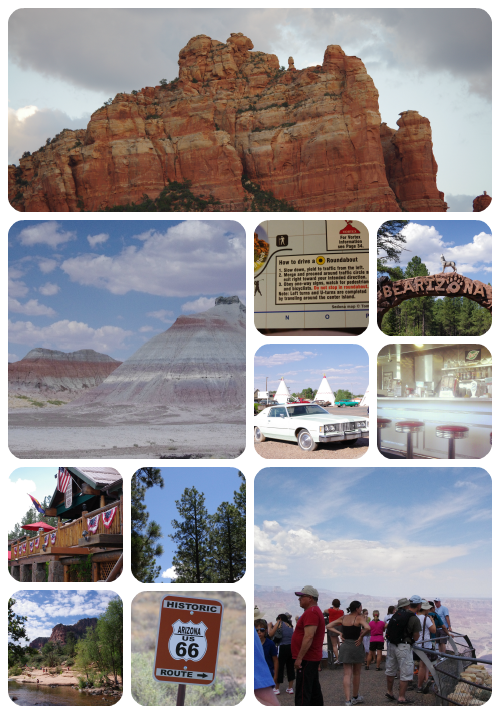 1. Um, Grand Canyon.
It's a long schlep from pretty much anywhere but is a must on everyone's list. Which explains why it's so rammed with tourists. To be honest, I felt it was a lot like the Mona Lisa: you know that it's significant, so you go to see it, but it's an anti-climax. I'd definitely recommend driving in from the East along the 64 (stop at the Craft stalls on the way for native American Indian crafts. I got a fabulous pair of earrings): it's such a pretty drive and you get a great view. Stop at the Desert View Watchtower for your first proper photo-op. Then drive on into Grand Canyon Village and realise why you've already seen the best of the attraction.
2. White Mountains.
When it gets hot in the summer, townsfolk desert the cities in favour of the cooler weather in the Mountains. The views are breathtaking. The change on topography is fascinating if you have any interest in geography. When you get to your log cabin, then take a drive out to Greer, which has the sweetest little Post Office ever, amazing mountain walks and yummy food at the Molly Butler Lodge. There are so many lakes in the Pinetop area if you are into fishing or camping: don't forget to eat at Charlie Clarks' Steak house, where the Mesquite Prime Rib is unbeatable. Ask for a large one to share (insider tip from the waitress). For breakfast, eat at Darbi's Diner in Pinetop.
3. Petrified Forest and Painted Desert
In our opinion, this was far better value than the Grand Canyon, and much less crowded. Enter from the North along Route 66, and get the views down into the canyons, then follow the route around the park to the bottom and get close-up views of the Teepees and chunks of fossilised wood that lies all around in the Petrified Forest. Just don't take any home with you: try Jim Gray's for every kind of fossil, bone and piece of wood you an imagine. And if you want a place to stay, I urge you to sleep in a Wigwam. But then, I love kitsch!
4. Phoenix.
Phoenix is a great city: there are more things to do here than you will ever get through. Eat at Tia Rosa's in Mesa, ride the Metro Light Rail through town, check out the Papago National Park. And if you have children, don't let that hold you back.
5. Sedona.
By far and away the best part of our trip. The drive down from Flagstaff is not for the faint-hearted. Actually, it probably is, but I am a real wuss when it comes to heights and hairpin bends, and driving a great big truck.We stayed at the Poco Diablo resort, which has a fabulous restaurant with views across their 9-hole golf course to the hills. Although everywhere has a great view, from Starbucks (and thanks to The Moiderer for that tip!) to the gas station. If you are from the UK, the fact that Sedona has roundabouts won't seem unusual, but they are so unusual in the States that a warning, with careful instructions on how to navigate roundabouts appears on all local maps.
For day trips, you absolutely must drive West to Williams and Bearizona. This is a very new zoo/wildlife park, with a car-safari (including in-car commentary on a smart black box they give you) and walk-around park with snack bar, gift shop and amazing Raptor demonstration in which owls will literally knock your hat off as they fly over your head. We aren't alone in thinking our trip to see native animals in their usual habitats was spectacular: I chatted with plenty of visitors who thought that this was the best attraction ever.
Other recommendations? Swim at Slide Rock, drive up to Joseph City, eat at the Wildflower Bread Company, and head down to Montezuma's Castle.
6. Tucson.
Two hours south of Phoenix, there is a lot to do in and around Tucson, especially if you like the Wild West. Visit Tombstone, the OK Corral, and Bisbee. The Sonoran Desert Museum- part zoo, part botanical garden, part museum- is essential, although get there early to enjoy it whilst it's cooler. It opens at 8am and they have free strollers. We were there for a good three hours! Drive on to Old Tucson, or enjoy the amazing Saguaro National Park: literally a forest of cacti!