Our chance to review Barbie™ – the Princess and the Popstar before it is released on 3rd September couldn't have come at a better time: firstly because I cannot watch Barbie™ Rapunzel again today and secondly because LBG (and therefore the Dimpled Ninja) has recently discovered Pop music. And Barbie™ The Princess & the Popstar gets off to a rocking start with a reworked song you may recognise!
The first Barbie musical since 2007, the film is a modern twist on the Prince (ess) and the Pauper story (another movie that we loved), with Barbie™ starring as Tori™, the kind-hearted princess of Meribella who would rather sing and dance than perform her royal duties. When her favourite pop star Keira™ visits the kingdom, the girls discover they have much in common, including a magical secret!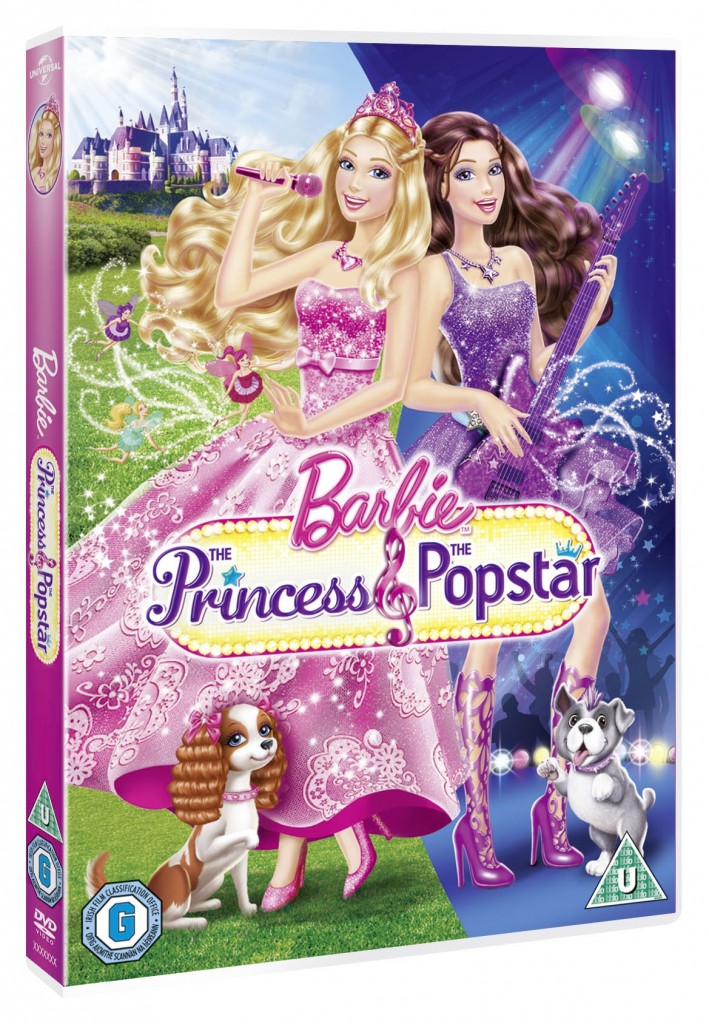 The movie features both original and licensed music which includes Cindy Lauper's Girls Just Wanna Have Fun,  as well as the usual Barbie™ movie features:
 mean older female figure, in this case Aunt Emilia
Ken-in character- as love interest
obligatory animal side-kicks (in this instance a Pug called Riff and Spaniel called Vanessa)
evil embittered Popstar Manager named Cryder, who gets his just desserts
OK, so I may have had a little fun with this Barbie™  movie, as I do with all of them, but that is the prerogative of the parent. The real test of the movie is in the opinion of my daughters. And they loved it. I mean really loved it. They sat entranced through the whole thing, trying very hard to follow the dance routines, and LBG has been working on learning the words to the songs. It won't be long before you see her on Britain's Got Talent, I'm sure!
If you are considering performing arts classes for your children, then I have the thing for you. Ten top tips to get you started from Denise Hutton-Gosney the founder of leading theatre school Razzamataz:
1) Performing in front of people takes confidence and for some children it is a skill that needs to be learnt and encouraged. The easiest way to do this is to take every opportunity to practice speaking aloud and performing in front of family and friends to make it a fun experience. This could be dancing along to a song on the radio or reading a favourite book aloud before bed. Having the confidence to perform in front of people is a valuable skill that children can use in many different circumstances as they're growing up.

2) There's much more on offer than many mums expect when it comes to finding a class to introduce a child to performing arts. Children today can try all different kinds of styles of dance from Jazz to Irish to hip hop. Singing classes can range from opera to pop and acting classes can cover musical theatre to comedy and improvisation. There really is something for everyone and children should have a go at as many as possible to find the class that they enjoy the most.

3) It's important that mums and dads encourage their child's interest in performing arts and show that they are their biggest fan! This could simply mean turning up at performances and cheering from the front row.

4) If you choose to send your child to a theatre school make sure that you meet the teachers and are confident that they can provide a stimulating and encouraging environment which will help nurture your child's talent. Classes should involve lots of participation so no child is sitting out for long.

5) Children can dream up all kinds of scenarios when they use their imaginations. Let them become the playwrights and put their imaginations to the test.

6) The emphasis should always be on having fun, fun, fun!

7) Involve siblings and friends and create your own theatre school at home. Choose your child's favourite songs and books and have fun re-enacting the storylines and singing the words. Would make a great performance next time Grandma visits!

8) Make use of potential down times such as travelling in the car to practice singing. This not only keeps children entertained on long journeys but also helps them become familiar with songs so they feel more confident when singing them in front of other people.

9) Hold your own mini awards ceremony to recognise the extraordinary talent in your household!

10) Never feel embarrassed to show off your own singing or dancing talents (if you have them!). Your little one will follow suit and find it entertaining that you're joining in!
*disclosure: we received a copy of the DVD to review, but all opinions-and dance moves- are our own.