This month's Tot's 100 Home Challenge has been challenging: not only have I been revamping our guest room with a limited budget, but it's been filled unexpectedly by the Au Pair, so I haven't had the access I wanted. Throw in the curtain pole that fell down as the blinds went up and it really has posed a problem. In fact, given that plastering and things-that-are-beyond-my-range-of-skills, the pole still stands idle in the corner of the room as I write, awaiting a handyman. But we'll gloss quickly over that, shall we. Don't tell the Evil Overlord.
On to the bedroom. I believe my plan went thus:
colour scheme
soft furnishings
lighting
layout
The layout has changed dramatically. One afternoon when DH was sealed up in the Man Cave, I co-opted Brother Adam in to help me move furniture and before you could say "where's my dinner", the room had a different feel. The bed went from the left-hand wall to the right-hand, suddenly allowing space on either side for a bedside table. The wardrobe moved from behind the door to occupy the space left by the bed, which it now faces. And the console table moved to behind the door. We all agreed that the room felt bigger and lighter immediately.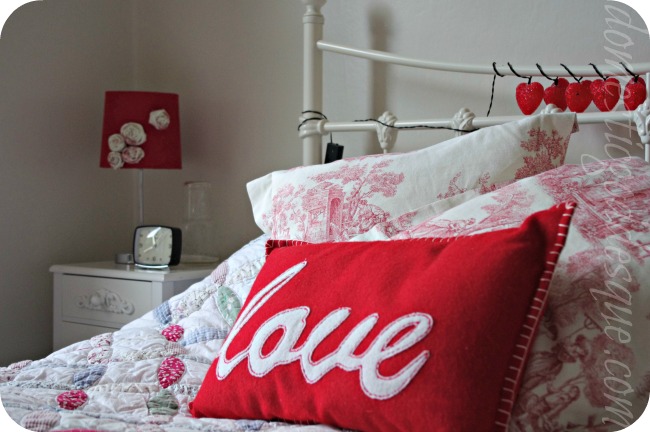 As far as the colour-scheme went, I worked with the existing bland, since painting a room is a) a lot of work and b) not always necessary. I have had a roll of fabric waiting to make curtains for the Guest Room since 2009, which I finally got round to using. No, I didn't make curtains, mainly because I needed the Mothership to show me how and she will be the first to tell you that I haven't seen much of her in the past few weeks. But I did magic up a pair of cushion covers, along with a runner/tablecloth for the console. I also planned to 'embellish' the existing curtains with some of the fabric to tie the room together. This gave me a cream and red colour-scheme with which to work.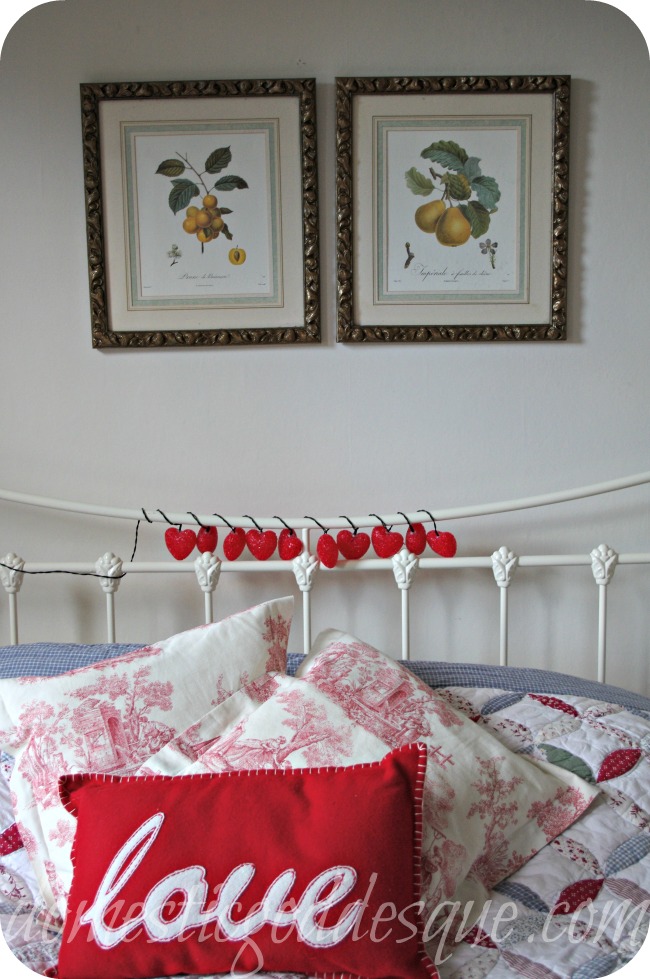 So off I headed to Homebase, clutching my £100 voucher, and bought the following:
2 x Poppy Red Roller Blind @ £12.43
2 x Touch Faux Suede Lamp @ £8.00
Love cushion @ £9.99
Alexia Cylinder Lamp Shade @ £7.99
a tin of gold craft paint, a retro alarm clock and some plastic storage boxes made up the total.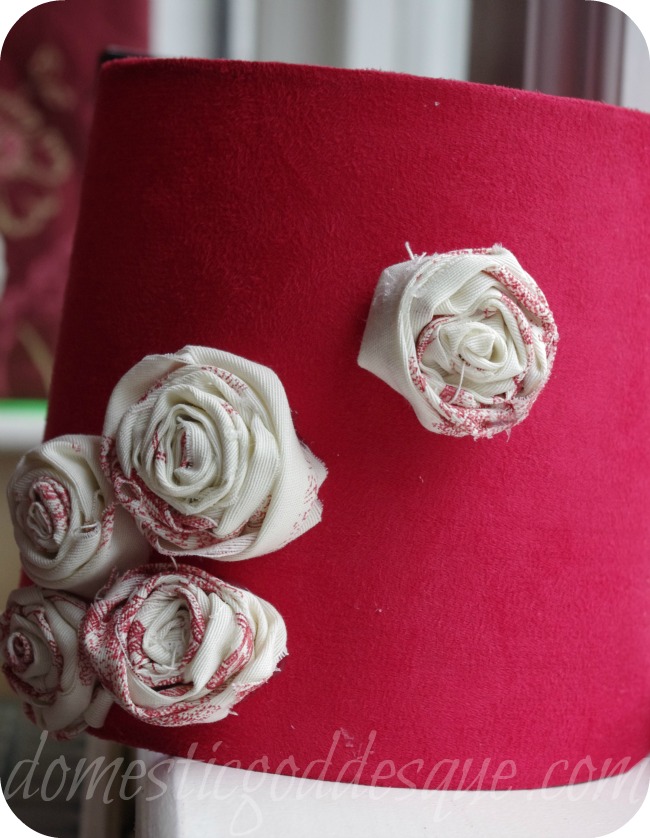 I also kept my eyes open in local charity shops, and managed to score a lovely heavy mahogany mirror, as well as a Lloyd Loom style laundry box in pristine condition which have enabled me to create a 'dressing table' from the console (which is actually a fold-out card table which I also picked up in a charity shop). I put a new lampshade on an existing base to give much needed light to the area, as well as a couple of red pieces found around the house, and a pair of red ceramic fruit from Wilkinsons. The great thing about this area is that, because it is made up of individual pieces, they can be used elsewhere down the line if I redecorate. I plan on giving the Lloyd Loom a revamp, after seeing Chris Tea and Cakes do something similar, but that will have to wait until the room is vacant.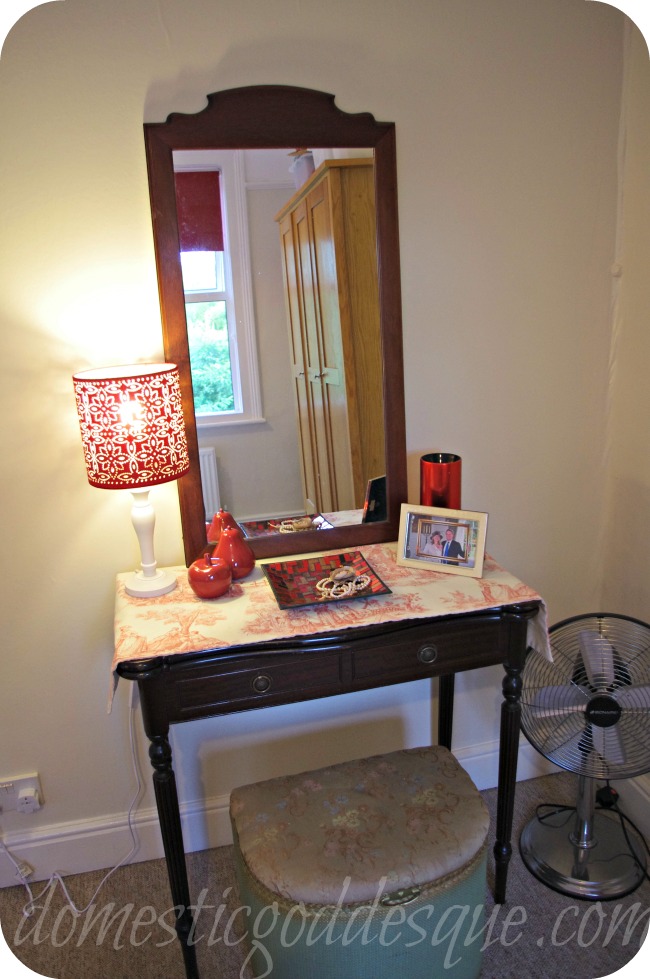 The existing bedside table works perfectly one side of the bed, with a new lamp, which has been embellished with fabric roses- to co-ordinate with the other soft furnishings- using a tutorial I found on Tatertots and Jello. It also holds the new alarm clock and a sweet bedside water carafe and glass I have had for aeons. There is quite a large space the other side of the bed which is just begging for a bookcase, so I shall keep my thrifty eyes open for something to fit. On the bed is super-neutral cream bedding, an old quilted bedspread, and a lovely red fleece blanket I bought in the sales at BHS, along with the two cushions, newly covered in Toile de Jouy, and the Love cushion I bought from Homebase.
I did want to create a feature on the wall over the bed. It turns out that the wall has, in the past, been cemented instead of plastered so you need a drill hammer to hang anything on it, which I have no intention of shelling out for. This means I need to rethink my ideas. I found a lovely pair of fruit prints in one of many local charity shops recently and gave the ornate frames a couple of coats of gold craft paint- much better than the tired green it was originally. For now they hang over the bed.
The other thing I realised that I will need to do with the roll of red Toile de Jouy fabric that I have, is to make a valance to cover the gap between the base of the mattress and the floor. I have a large underbed drawer under the bed in the Guest Room which contains my 'gift' stash, and moving the bed around has exposed it to view. In particular it has become noticed by Dimples and her Big Sister. This is a time critical exercise it would seem.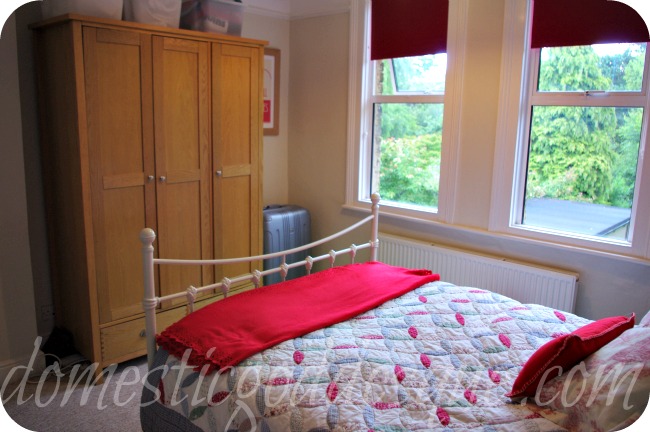 For help with your room dilemmas, you could try the new Homebase App on Facebook: a great tool for planning, you can create mood borads which you can save or print and take into store.
*dislosure: I was provided with £100 to spend in Homebase in order to complete the monthly challenge.*