The weekend before last we were in Bruges- not on a 'wet' assignment I hasten to add (did you like that film?), but on a House Exchange. I remember Bruges from my childhood: we spent three years in Brussels when my Dad was working at NATO. But I haven't been back since and so had very little idea what to expect, other than frites and chocolate. It was such an easy three hour journey from door to door on a Friday afternoon, including the hanging around at the Eurotunnel in Folkestone, that we'd definitely do it again, not least because Bruges is so beautiful.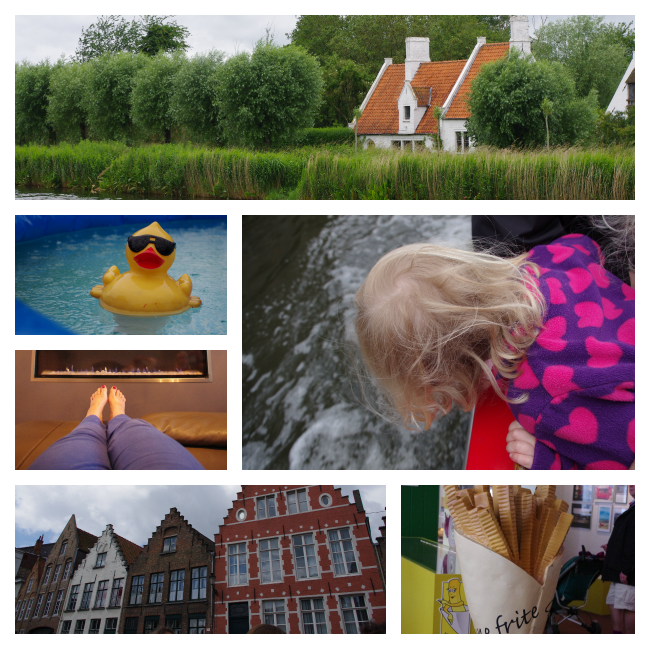 OK, so the whole Flemish thing was a bit tricky- Bruges is in the Flanders area, which forms part of the Flemish-speaking-section of Belgium- but given that everyone speaks English and French, I'd be lying if I said it was anything other than easy to be understood. The city is a warren of beautiful architecture, picturesque canals and fun things to do, so I thought I'd give an easy breakdown of our trip in the form of a list. Here are the things that we learned in Bruges:
It is cool to have a dog. People brought Man's Best Friend shopping, to lunch, into museums. Had we known we'd have brought the Wonder Hound, although she wouldn't have been as well behaved. It is also cool to push your dog around in a Dog Pushchair. Ideally wearing smocked outfits. Whilst this went down well with my giggling girls, WH would have been furious to be subjected to such humiliation.
There is a waffle shop on every block so you will never hunger. Especially of you alternate waffles with frites from the stands dotted around the city centre.
Boat trips are a great way to see the city. It is physically impossible for a person, when seeing your 4-year-old wave at them- either from a boat or land- not to wave back. This makes for a great game.
It is also physically impossible to juggle a kamikaze 2-year-old and a camera whilst on a boat. I gained grey hairs in that half-hour.
You can call your children's clothes shop Gymp and nobody laughs.
Shopping is better done when the whole pedestrian area is wired for sound: 1980′s club classics seems to be the Belgian Shopping Song of choice.
Cheese Croquettes are as delicious as a grown-up as they were when I was a child.
The Belgians' take their Frites so seriously that they have a museum dedicated to them. There is an excellent childrens' play table in  the basement Frit-eria.
If you plan on doing a tour of the city in a Horse and Carriage, get there early.
Everything is so flat even I considered riding a bike.
If planning a Stag Do, seeing the city on Segway is a must. It's highly amusing for us ordinary pedestrians to watch a dozen hungover men in high-vis jackets try and keep their balance on cobbles that early in the day.
The Museum of Chocolate gets very busy. And hot.
Pushchairs with small wheels do not really enjoy cobbles.
I love remote controlled fires.
We are total House Exchange Converts.