The Potato Salad I grew up on was the standard kind: plenty of mayo, though with a splodge of Salad Cream to add a better flavour. I had no idea potato salad could be any different until I came across German-style Potato Salad in France. This is my vaguely-remembered version of the original. Should we ever get a summer, it is delicious when eaten with flame-grilled barbecued steak.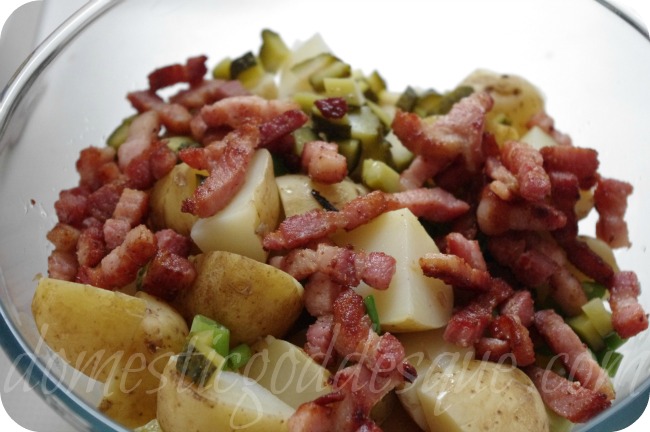 1 300g bag new potatoes, boiled.
1 small packet lardons (about 150g), fried
2 spring onions
2 small gherkins
1 tsp grainy mustard
2 tbsp mayonnaise
2 tsp white wine vinegar
salt and pepper to taste
Once your potatoes are cool enough to handle, chop into bite-sized pieces and put in a large bowl.
Add the cooled cooked lardons.
Finely chop the gherkins and spring onions and add to the bowl. Mix carefully.
In a separate bowl, mix together the 'wet ingredients' until blended. Taste and adjust seasoning as necessary, then add to the bowl.
Stir until the salad is well mixed.
You can serve this immediately- it is delicious whilst still-warm- but the flavours develop better if left to cool fully.