…I got married dawned clear and bright, which was great news because it had snowed during the week and I had visions of us getting married by ourselves because everyone was stranded by the weather. DH and I were a little hungover from the Rehearsal Dinner, hosted at the Royal College of Surgeons the night before. We headed out of our hotel to find a greasy spoon, where I tucked into my last   All Day Breakfast as a single woman and DH gingerly tackled dry toast.
Then he went one way, to get ready with his groomsmen, and I the other, back to our room to get ready. It was terrifying, exciting, lonely, getting ready by myself, knowing that the next time I saw him would be at the front of the church. I can't stand fussing and I needed the space to prepare for the emotional rollercoaster that was moments away. I remember so much in vivid detail: the tourists applauding as I walked to the Cathedral, giggling as I nearly fell on the stairs, watching the latecomers hare past me into the Chapel. But from the moment I turned the corner and the Wedding March started, all I can remember clearly is the detail on the back of the Vicar's robe: I had to stare at it so hard to stop from crying. I was experiencing every kind of emotion and each one threatened to tip me over the edge.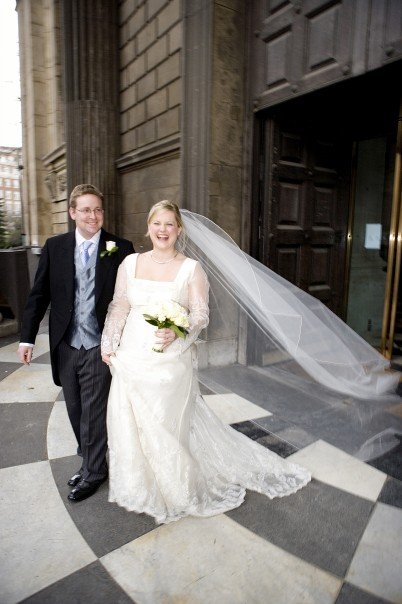 And then I was on the other side, and there was only infinite happiness. It's a day I never want to forget.
This post is my entry into the The Day That… blogger photo competition