Tuna pasta. I can remember eating it quite regularly when growing up: we always had the ingredients in the tins cupboard. And taking my parents example, I have always had the ingredients in my cupboard. But I've probably made it once since we got married. Every time I suggest it, DH looks at me like I've suggested we eat raw marrow.
But I have at last come up with an alternative that meets with his approval, for days when I don't feel like cooking much, or for meals that need to be ready in a short time frame. And it's all thanks to Princes Wild Alaskan Salmon, which I was recently sent, along with a book filled with yummy sounding recipes. I forget that you can buy tinned salmon, but it's surprisingly easy to use. No doubt you can eat the teeny tiny bony bits but I picked them all out.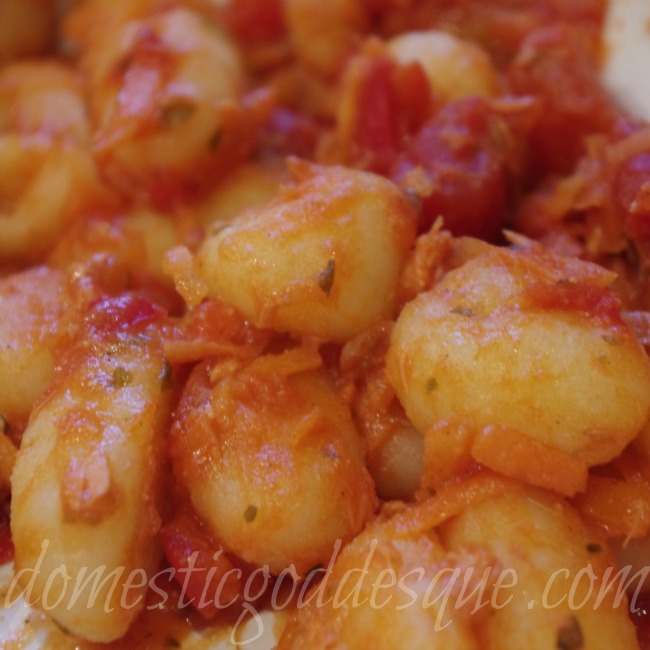 Ingredients:
1 onion, finely chopped
1 carrot, grated
1 small jar of pasta sauce ( I used Sweet Red Pepper)
1 tin Princes Wild Alaskan Salmon, broken up gently with  a fork
1 300g pack of gnocchi
Firstly, heat a pan with some oil and fry the onions until soft and golden.
Add the carrot and pasta sauce and simmer for five minutes.
Whilst that is simmering, cook the gnocchi according to the instructions.
Once cooked, add to the pasta sauce and fold in.
Finally, add the broken up salmon. Fold in carefully and cook for 1 minute.
Serve immediately.
You can find out more about Wild Alaskan Salmon on the Princes website.
*disclosure: Princes sent me some tins of Wild Alaskan Salmon so that I could create a recipe, for which I thank them.*