Whilst you are reading this, I am in transit, somewhere between London Heathrow and Phoenix, Arizona. We're following the Vegemite Vixen Supreme's example and bailing out whilst the Great British Sporting Event is on. But we do, bizarrely, play a small part, though we are not in London. Because whilst we are not in our home, another family is. That family are supporting a member of their family, who is competing in the BMX event at London 2012.
We are on a House Exchange, you see, and so I shall be blogging from afar for the next three weeks. This may mean that I do not blog as often, but I am told that the whole of America is wired for internet, so am hopeful that I should be fine. In the mean time, I wanted to tell you about some of the wonderful things that blogging has enabled me to do in the past couple of weeks.
I got to head into London in the last week of term, to talk to the people at Cussons Mum and Me about their fabulous range of pre-and post-pregnancy (and Baby) products. I sniffed and rubbed and sprayed all the products, doing my best impression of a really annoying Boots Perfume Counter Assistant. I was a little bit jealous of the pregnant-and-new mums who will get to use these products: why weren't they around when I needed them? But it occurred to me, after I had a chance to investigate my take-home goodies, that all is not lost as there are several products that I will get almost daily use from. The Dry Shampoo, for example, is so much better than the brand I use. And I have great hopes for the Cooling Spray on our trip to Arizona, both on the plane, and on the ground where temperatures are hitting 100F at the moment. But the thing that has revolutionised my life of late is the Sleep Mist, which smells utterly divine, whether sprayed on your pillow, on your stressed-out-two-year-old's-teddy, or on your person as a lighter alternative to perfume. I have ordered DH to buy shares. Oh, and to top it all, the Cussons Crew recorded my Real Life Mummy Confessions for a Campaign they have launching in August: look out for me on the Cussons Mum and Me Facebook Page, won't you?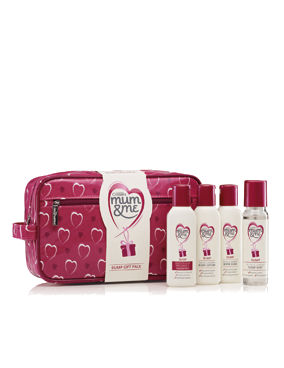 Next up, and fitting neatly with Cussons, is Sorelle, a delicious non-alcoholic wine-style drink that is perfect for pregnancy, as Tamsin Outhwaite will attest to. I'm such a name-dropper. But back to Sorelle,  available in a crisp, zesty Sauvignon Blanc as well as a floral Rose, which is an astonishing 24 calories a glass: I mean, it's practically water, yet with all the taste and flavour of real wine. I can see how it would be perfect for pregnancy, especially in the early days when you don't want to tell people, which means 'faking' drinking, but there are other advantages too. Take any event you have to drive home from: book clubs, play dates, Parish Council meetings. You could use it in the place of wine to make a fabulous alcohol-free summer terrine, or syllabub. And you could mix with soda water and throw in a few strawberries to make a delicious summer drink. Lovely. You can follow Sorelle on twitter. And if you can bear the sound of my voice, here is what Tamsin and I (OK, and a few close friends) chatted about!
Samsung has provided the appliances for a sustainable, floating home, based in St Katharine's Dock, in London, which has been built by Sanitov as part of their innovative Floating Homes, Future Cities initiative. Set over three floors, the eco-home  features an open-plan living area, rooftop jacuzzi, and a fabulous kitchen. All the materials used to create the eco home have been ethically and sustainably sourced, and it is said to be one of 40 dwellings in the UK with Energy Level 5 status. They invited me to come and take a look around the £2m home for myself, and sample some delicious food.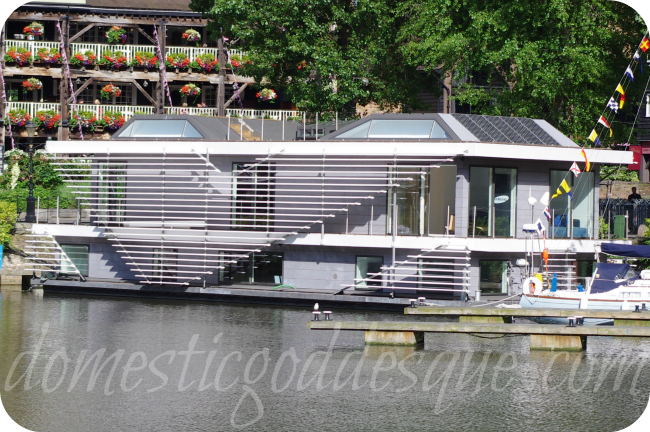 And finally, I wanted to give a special mention to John Crane Toys. If you read Mari's World, you will know how much she rates the John Crane Toys. On her recommendation I jumped at the chance to own a Rainbow recorder.  When they arrived, DH asked me what the hell I had been thinking. I take his point. These pretty recorders are not toys, you see, but bona fide recorders that you could take to your recorder lesson and practice on. Which means that they make noise. In my Little Misses case, they make lots of fairly tuneless noise that irritates me, the dog and the neighbourhood. Frankly it was so unpleasant, that I whipped them away and hid them at the first opportunity. Feeling terrible that I had failed to fulfill my part of the deal by taking photographs of the recorders being played, I stuffed said instrument with a goodly amount of cotton wool to dampen the wince-inducing sounds, but The Girls declared them 'broken' and refused to co-operate. I found a solution recently: ear plugs. And so, with deadened hearing, I finally succeeded in getting photographs of LBG and Dimples playing Rainbow Recorders. Hurrah. And huge thanks to John Crane for bearing with me.