When we moved in to our house, we inherited the 'choice' colour schemes of the previous owners. Not for them the House-Doctor-Style-neutral-throughout-to-appeal-to-the-buyers, they kept their bold colour choices and sale be damned. Obviously this worked in our favour, since there were a few months between us having to withdraw our initial offer (our sale fell through) and us being back in a position to buy, and no-one else thought to snap it up in the mean time.
Of course the few months between initial offer and actual offer also meant a baby bump that made me look like I was going to explode. Indeed when we eventually moved, I had a five-week-old baby. Unsurprisingly we were more concerned with becoming parents than becoming house-renovators, so it has taken just over four years for the Now-Playroom to go from the blue-on-every-surface-with-gold-woodwork-accents to a much more therapeutic and less Depression-Inducing Farrow-and-Ball-neutral-heaven.
Now that the last room in our house has finally been decorated, and partly spurred on by the Tots 100 Home Club, I have been making a few alterations to rooms that haven't been touched since our initial burst of enthusiasm two children ago. To whit, the curtain in the downstairs loo. The downstairs loo had silver metallic wallpaper and a matching silver blind when we moved in. We left the white-tiled walls, and black tiled floor and had some very nice Dog-themed wallpaper hung instead. My mum, and new granny, also made a panel for me to hang across the bottom half of the window, to screen the view of the shared alleyway between us and next door, from some red fabric I had in my stash and it has hung there ever since. Of late I have noticed that it appears quite dark in a room that should get a lot of light, so with the greatest of respect to The Mothership, I decided to take down her curtain and replace it with something less opaque.
I found an offcut of *whispers* net curtain in a Charity Shop recently for less than £1 and grabbed it immediately, knowing that it would be just the job. The last time I was in Ikea, I also picked up some curtain rings and hooks to hang the 'cafe-curtain'. And one day when I was free of the children, I fired up the glue gun.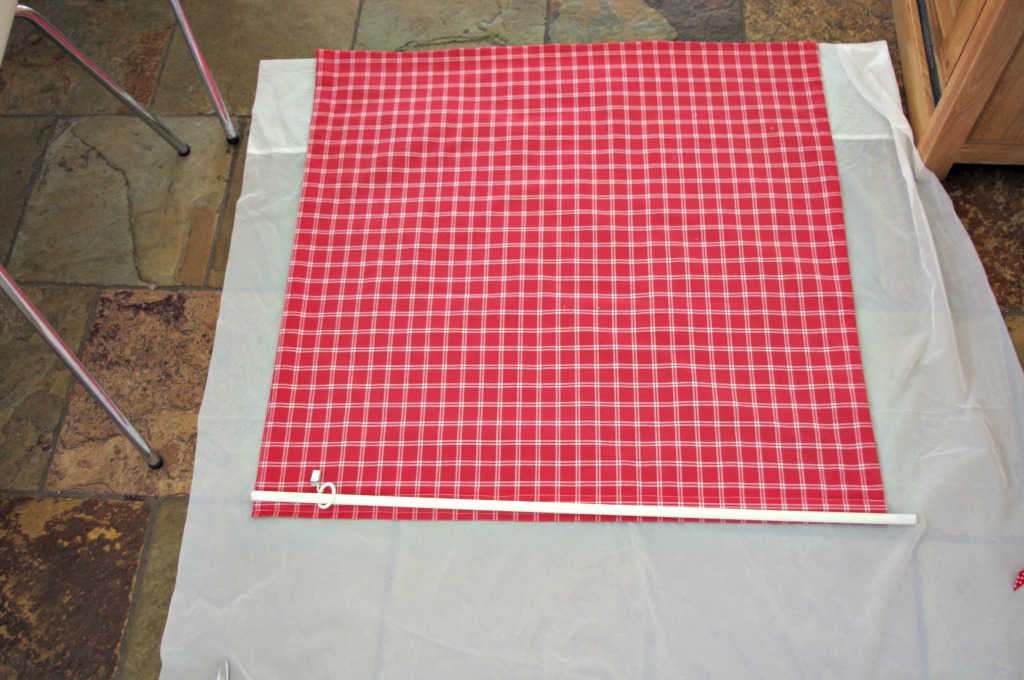 Using the old curtain as a template, I cut the net to size. I laid the curtain on top of the net, and the pole on top of that in it's usual position. Then I added a curtain ring and hook so that I could get a clear idea of where the new curtain would hang in relation to the old. From this, I worked out that if I trimmed the net to the exact dimensions of the old panel, I would have enough excess to create a good hem at the top.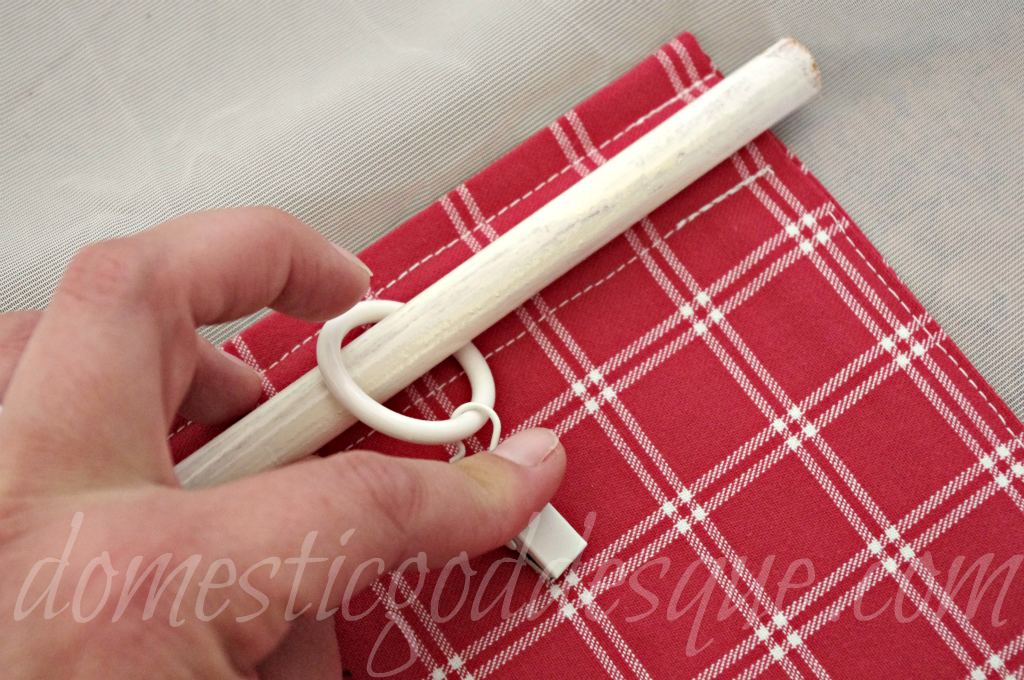 Once done, I folded the net over, and over again, tucking in all loose edges, and pinning the hem in place. Of course, I checked it against my pole-and-hook set-up to be sure that the hem was at the right height. Then I glued the hem in place with the glue-gun. *Make sure, if you are following my super-vague instructions, that you place something like a piece of board, paper or foil under the net because it is very fine and the glue will sink through it to the surface underneath, and you don't want net welded to your kitchen floor.*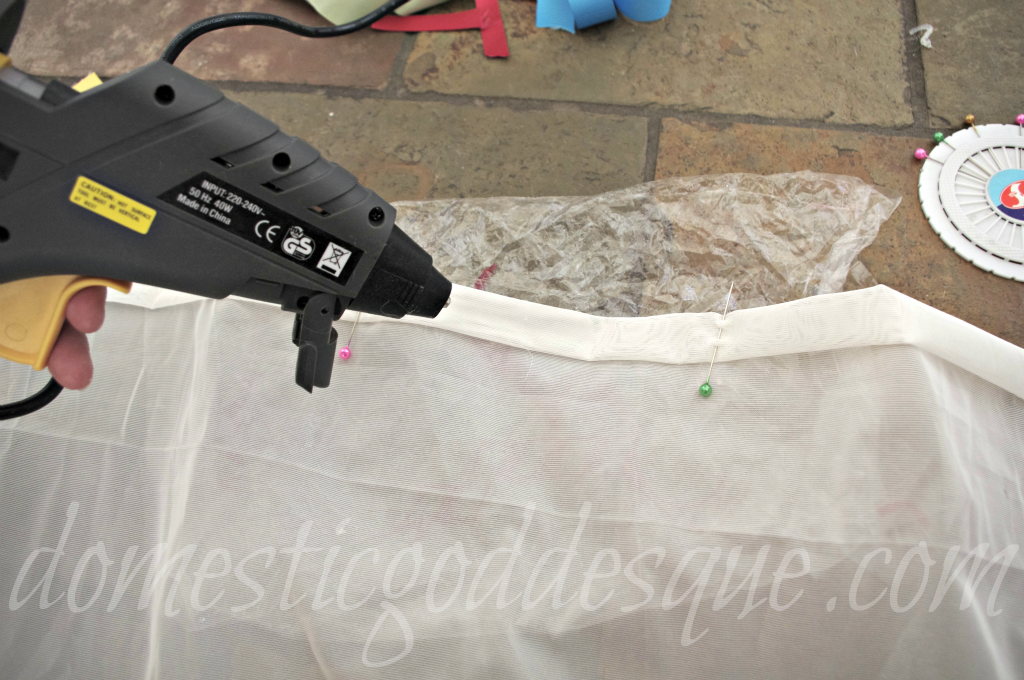 Obviously, the glue is visible at the top hem, so my cunning plan was to glue a piece of ribbon across the top hem to hide it. And I'm quite pleased with the result, although obviously you get a clearer view of next door's bins.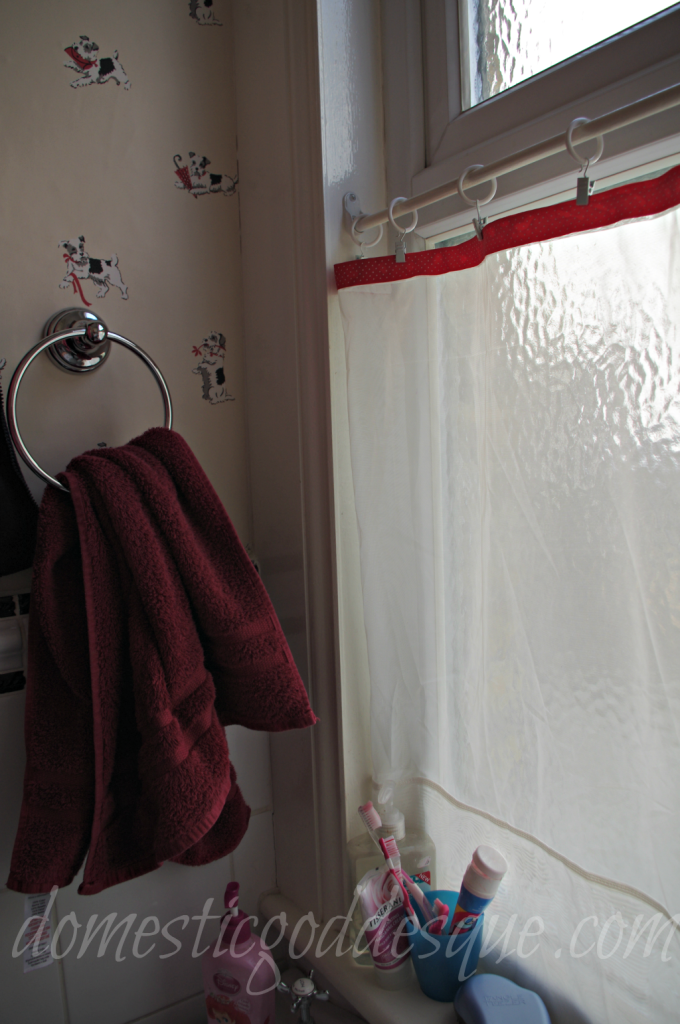 And if that wasn't enough excitement for one broom-cupboard-sized room, I got super organised and used some red and white boxes I bought for peanuts (£2.99 for 2!) and organised all the winter hats, scarves and gloves on top of the new vintage coat rack I found recently in a furniture store.