A long time ago, I mentioned that I had a desk. a desk of which I was incredibly proud, because it gave me a bonafide work space. You will not be shocked to learn that it quickly became a 'storage' space, and is stacked with all those things that "I'll just put on my desk to file/throw/deal with later". So this is where the 'magic happens':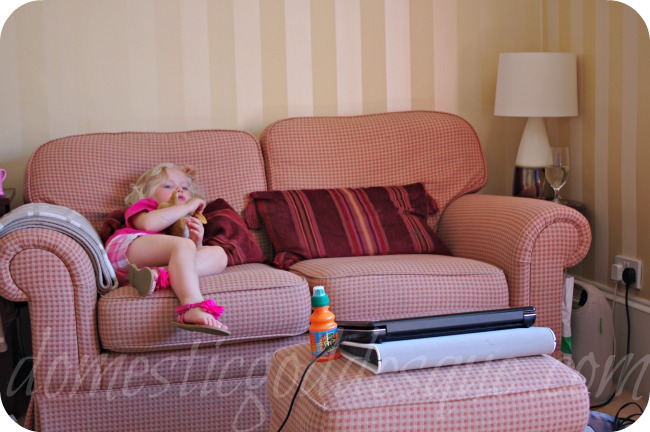 Yep. I blog from the sofa. Actually, until a few weeks ago it wasn't that particular sofa but a different, whiter (DH's choice), more stained sofa. But then we had the playroom finished, and I moved one of our two sofas into there, and the sitting room needed another sofa. The one that you see is from Marks and Spencer, and has a matching footstool that is crucial to blogging from the comfort of your lap. It came to me via the brilliant Give 2 Give furniture store in nearby Hayes (that's Hayes, Kent and not Hayes, West London). I paid £50 for it.
It occupies the space of a former, larger (did I mention more stained??) sofa, and so I had a need to find something to fill the teeny tiny space to the right of the sofa. Wouldn't you know it, but across the road in the London Ambulance Furniture store I found a teeny tiny side-table for £5, which fit the spot exactly and only a day later found an M&S lamp in yet another Charity Shop, to sit on top of it, again costing only £5.
The blanket that you see on the arm of the chair was a wedding present, but I have another- not visible in the shot, but the one I usually cover my legs with in the cool evenings- a lovely wool number in red and brown tartan, which set me back only £4 on the hottest day of the year.
Cushions were bought as a housewarming by The Mothership and have done service on every sofa that we've owned, not to mention propping babies up, using as beds for small children, or teddy collections, and 'furniture' for various dens that have been built in the sitting room over the four years that we have owned it.
In total, this entire corner of my sitting room cost £60. That's some savvy shopping, I'd say! And, because we now have the playroom, and it now has it's own television, there's a chance that I'll be able to keep this corner- indeed the whole room- a little less messy, a little more grown-up. I shall keep my eyes peeled for cushion fabric to recover those that are tired from the Baby Years, so keep checking for updates!