The sun is shining, not just in my patch of England, but over the bulk of the country, and the temperatures are warm enough that I have had the misfortune to see several men walking around topless today. It never ceases to amaze me the things that British people do when the sun comes out- it's all so very undignified. No wonder I have been driven to cocktails, even if they are non-alcoholic.
I am at my genteel best when the sun comes to visit. I know you expect nothing less. I live in sunglasses and a large sunhat and avoid the midday sun, although all of this has more to do with my sensitivity to light than to my desire to remain delicately pale. And I am careful to keep hydrated. But my, doesn't water get awfully boring?
And so, dear reader, I wish to share some of my favourite summer tipples. They are all as soft as can be and very refreshing- perfect for supping in a quiet corner of the garden whilst you gird your loins for the school run and so forth, etc.*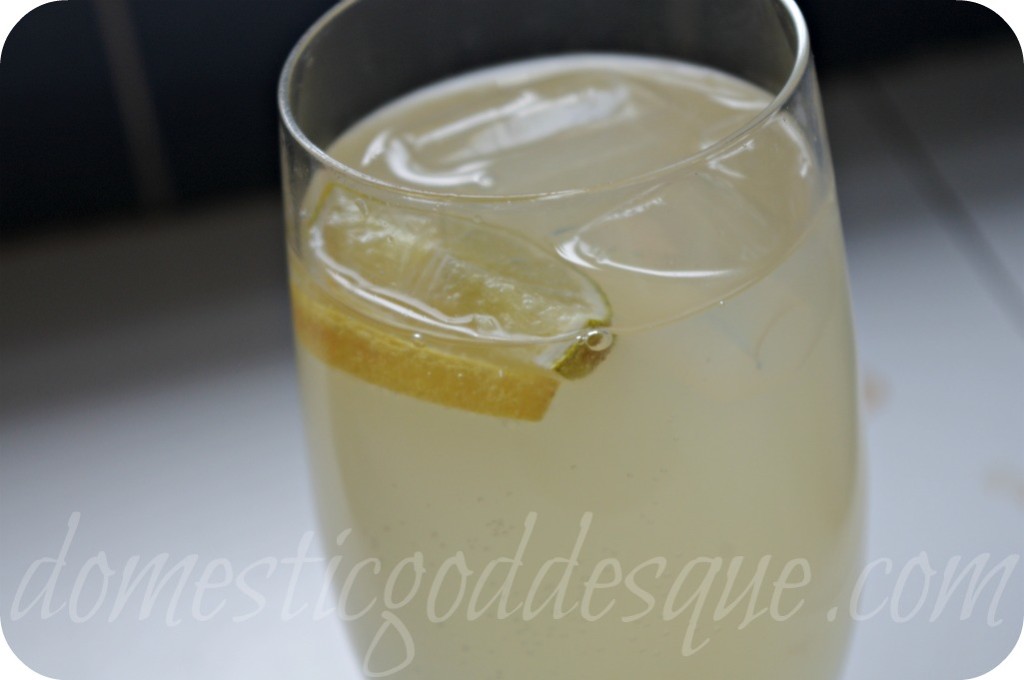 1. Linger Beer
Very Famous Five-y, but quite delicious. Just fill a glass with ice, add a slug of Lime Cordial (or fresh lime juice if you have it) and fill to the brim with lovely tingly Ginger Beer. It's quite the tonic.
2. Jewel-icious
So named because my daughters, who love pomegranate seeds, think they look likes jewels. Put pomegranate juice in a blender with equal parts ice and whizz until you have a nice cool sludge. Half fill a glass with the sludge then top with soda water, or lemonade if you prefer it a little sweeter. Garnish with mint and enjoy. Pomegranate has the added benefit of being so very good for you. You can also get Pomegranate juice mixed with raspberry or blueberry which work just as well.
3. Tequila-less Sunrise aka Sparkling Sunrise.
When I was little my Dad used to make the most grown-up drink you could ever think of for my parties: Tequila Sunrises. At least I thought that's what they were called. It turns out that they were just Sunrises, minus the alcoholic content. The great thing was the way the colours all separated out. I am not a huge fan of orange juice- I don't find it remotely thirst quenching- so I've altered the recipe. First, chill your glass as the drink looks better without ice muddling it. Next, fill the glass half way with orange juice- fresh is better. Or try Clementine juice. Then add a slug of Grenadine. The grenadine is heavier so sinks to the bottom of the glass, creating your sunrise. Carefully top with soda water and serve, ideally with an orange slice and a maraschino cherry.
4. Elderflower Mojito
Crush a handful of mint leaves in a pestle and mortar with a teaspoon of sugar, then tip into a glass. Add plenty of ice and top with sparkling Elderflower (or Elderflower cordial mixed with lemonade or soda.) This is so easy and so sophisticated. It makes a great alternative to alcoholic fizz at a party.
5. Vitamin Bomb
Equal parts apple juice, orange juice and carrot juice. Serve over lots of ice. Garnish with a stick of celery and a sprinkle of ground ginger. It's a very worthy drink and a surreptitious way of getting fruit and vegetables into small children, though I advise leaving out the celery and ginger.
So dig out that dusty deckchair, your favourite book and a couple of mixers and enjoy the sunshine.
*I fear I may be turning into a heroine from a Victorian novel. Send help. And maybe some Gin.