They say that when life gives you lemons, you should make lemonade. In Claire Howard's case though, she made Limoncello. From there it was but a hop, skip and jump to Howards of Kent, her flavoured Vodka business, which she runs from home around her daughter's school hours. Using real fruit from local sources as far as possible at least (lemons and cranberries are harder to come by in the UK!) the Vodka is made using Claire's special formula and sold via Craft Fairs in the South East.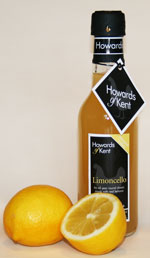 I was given a few samples to try, so when French Hannah and Le Boyfriend were recently down at the Beach House, I co-opted them onto my tasting panel. Well, they are students! Here's what we thought:
Limoncello
A concentrated lemony flavour without a hint of Vodka, so very dangerous.
Would work well as a cocktail base and you could just add lemonade or soda for a grown-up summer lemonade!
Rhubarb
A smooth soft summer rhubarb flavour with a gentle pink colour,
this does leave you with the post-rhubarb-furry-teeth I remember from my youth.
Not a universal favourite, you could use this to flavour an alcoholic summer trifle.
Almond
Made with Almond Extract, this is a sweeter drink with a striking almond flavour.
You could sip this slowly, served over ice or steep prunes in it to make a fabulous Prune and Almond Cake.
Citrus Spice
A warming, wintery blend of vodka, cinnamon and orange, this was my favourite by a long way.
I plan on getting some for the festive season as it would add a great kick to your Gluhwein.
Raspberry
The moment I poured this, the room filled with the irrepressible smell of summer.
The most alcoholic of the bunch, this had a refreshing taste of raspberry and got a definite thumbs up. I have plans to use it in a summer fruit terrine later this year.
After Dark
The perfect after dinner tipple, this blend of Vodka and Coffee Beans is reminiscent of Tia Maria, so I'm sure it would work well
as a long drink with coke. I'm certain, too, that it would be a new twist on the classic Irish Coffee.
For more information about Howards of Kent, their full range of flavours, and where to buy yours, please visit their website or say hello on Facebook. You can also find the Vodka Lady on twitter. Say hello- she likes being distracted from peeling 300 lemons.
*disclosure: you read that I was given Vodka samples, right?*