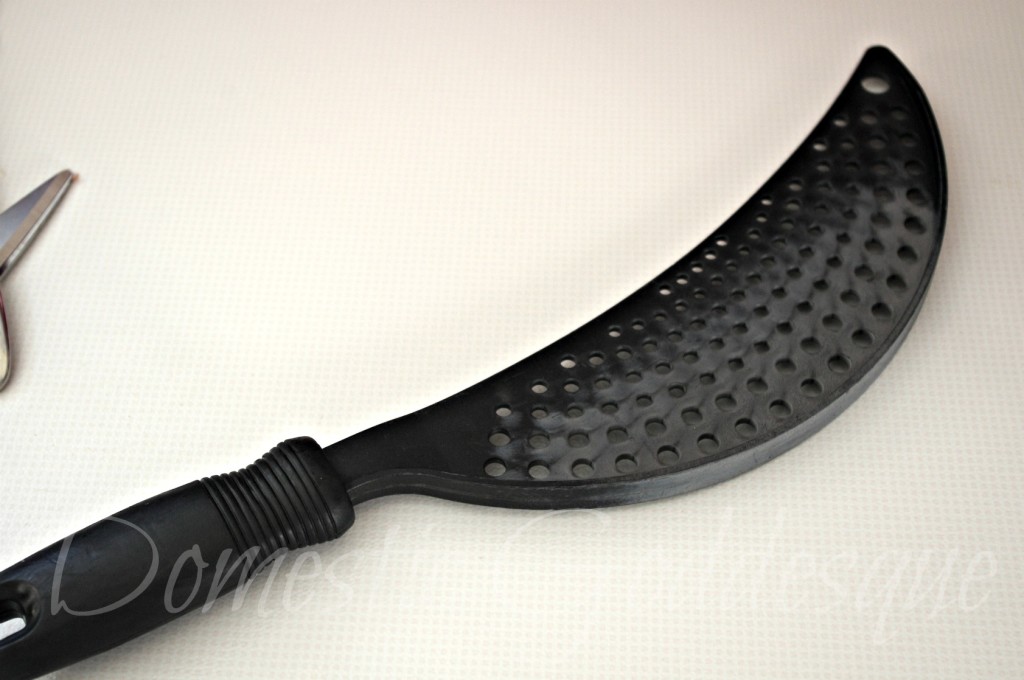 This is undoubtedly the dullest picture I have ever taken. But it was worth taking, because this is one of my favourite kitchen tools. You can probably tell that from the discolouration. I bought it a few years ago in Lakeland. It's the most perfect strainer ever: instead of tipping the single portion of peas or pasta into a colander to drain off the water, you just hold this up to the pan and strain.
But what is even better is that it works just as brilliantly with cereal. If you have children (or fussy other halves) you will know what I mean: the abandoned half-eaten cereal that has festered in milk whilst you deal with potties and noses and so forth. You still have to strain off the milk but ugh- what do you use? I tended to resort to my hand (bleurgh) until we got this.
Equally good, though not as good a substitute for a Scimitar when you are fighting your husband for the last bit of chocolate (happens more than you think!) is the Joseph Joseph Scoop Colander, which I scored recently in TK Maxx. Use as a strainer or as a scoop- genius!
That's my tippety-top Domestic Goddesque tip. Next time I practice using my camera, you may get another 'Kitchen Essential' post. And that is why, ladies and gentlemen, I have received nominations in an astonishing four categories for this year's MAD Blog Awards. I am genuinely astonished, flabbergasted and delighted. I may even have been momentarily stunned into silence. Momentarily. Thank you so so much, if you voted for me. I really appreciate your support, and your confidence in my abilities.
And if you haven't voted? There's still time to get your nominations in……so what are you waiting for??