You have no idea how hard it is to take a photo of a life-sized drawing of yourself with your smart phone, whilst also trying to get yourself into the photograph too. So I gave up, and took this instead: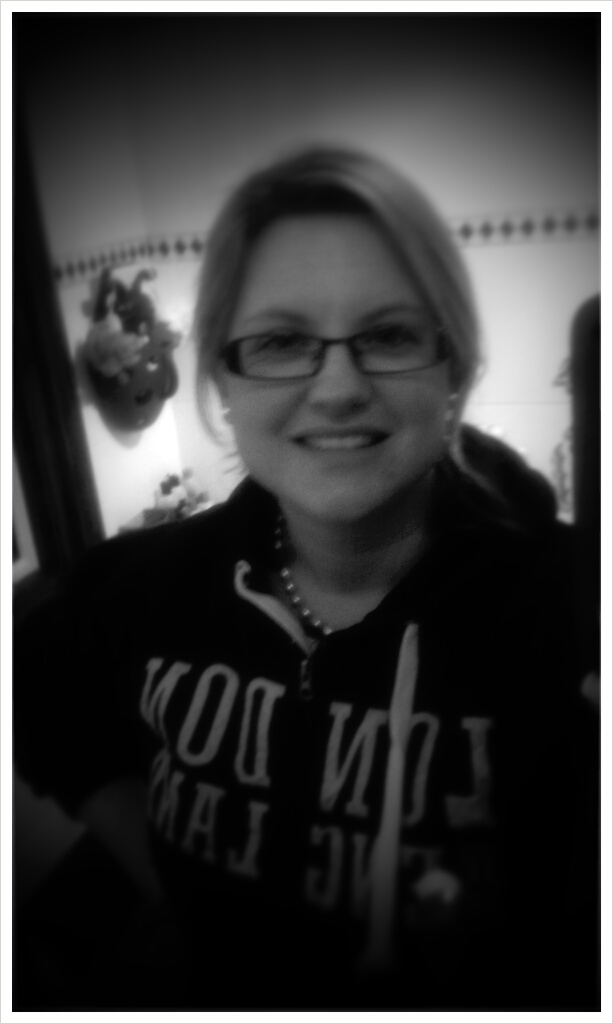 It looks reasonably like me: note the bags under the eyes, which are permanently tired due to a combination of the-cough-that-will-never-go-away and the-child-that-sucks-at-sleeping. And pinterest addiction. I'm wearing my LONDON, England hoodie, bought from a tourist stall on Waterloo Bridge. I like to think it's ironic that I wear it. And at least I'll never forget which country London is in. Oh, and then there are the pearls, which I sport 90% of the time. I like pearls. They are the only bit of me that is synonymous with the 1950′s housewife I fail daily to be. You only have to look at the background of the shot, cunningly edited to make it hard to see: look closely and you will see the smeared bathroom mirror which I used to take the picture, the cluster of bottles on the side of the tub behind me, the mouldy toys, the soggy flannels, the general detritus that is left in the wake of two small Girls post-bath. But I'm still smiling.
Incidentally, had I been able to show you a good image of the other picture I wanted to use for Tara Cain's latest Gallery Challenge, you'd have been impressed. We took a leaf from Grumpy Clara's book and drew round each other. Well, I attempted to draw around the girls, but it was quite tickly, so the silhouettes were rather more 'modern' and 'interpretive' than I had planned. Then they insisted on drawing my slender frame. I had to stick two pieces of wallpaper together.
I picked up a roll of wallpaper in a charity shop ages ago for £2, knowing that it would eventually be useful, and so it proved: the backing of wallpaper is perfect for art work, and the paper is wonderfully thick which makes it perfect for 'large art'.
Back to the craft: once our outlines were drawn, we set about decorating them. Dimples used stickers, LBG crayons, both of them abandoned quite quickly to turn me into a superhero. I had pink feathers around my neon-pink wonder-suit, knee-high boots in a fetching shade of teal blue, with purple contrast trim, and a purple cape. Oh, and a monogrammed belt in a variety of colours, proclaiming me to be 'Good Mamma'. I gave myself a Judy-Jetson-style haircut and matching head-gear. I've never felt so glamorous. Which I doubt I would be saying if you'd actually kitted me out in my fantasy-superhero-ensemble. I'm confident that these thighs would not look as cool when smothered in spray-on neon lycra.
So I'll stick to the slippers and the Ironic hoodie.