You've got to love all this talk about the weather. It's so very British.  This morning, as I whacked up the heating in the car on the school run, Radio 4 told me that Blacks had experienced worse sales than usual in November because of the exceptionally mild weather. Fast forward seven days and even the South of England is expected to have snow before term ends.
Despite the frigid temperatures, LBG is still reluctant to wear a coat. She rarely sleeps under the duvet and never wears socks. This time last year I was actually chastised by a Senior Citizen for making her take her boots off on the beach. In fact LBG had been determined to take off her wellies, never mind what I, or some old git she'd never met before, had to say about it.
I was surprised therefore, that she took an interest in coats when I was glancing at the Land's End website a few days ago. After a good thirty minutes of negotiating the children's coats and assessing the pinkness of the pink coats (you can never have too much, you know) that were available (there are a surprising number) LBG settled on the legendary Squall jacket.
DH and I are both staunch advocates of the Squall Jacket: they are the best coat investments we have ever made (inadvertent 'horribly' matching colour choice notwithstanding) and are perfect for walking along the windswept coast in the winter. DH loves the insane amount of pockets and we both adore the super-fine fleece lining.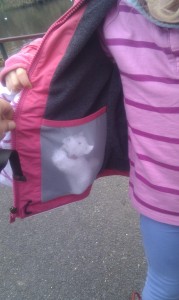 LBG's coat has the same lovely lining and some super-nifty hidden pockets 'just like Daddy's': as it turns out that was all the persuasion needed to get LBG to put the coat on when it arrived. She can tuck her trinkets in the various pockets and keep them close to her whilst we go out. Not only that but the Snowguard Wrist Cuffs are perfect for keeping her hands just warm enough (unsurprisingly, she is not keen on gloves) to feed ducks and climb frames and hold the dog's lead. Likewise, it has a fitted, peaked hood which is exactly what is needed when the wind comes up unexpectedly.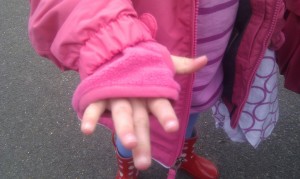 As a parent, I have to say that Land's End had me in thrall the very moment LBG even agreed to put the coat on. The fact that she actually asks to wear it now when we go out is icing on the cake. I am delighted not to be regularly walking four paces behind her carrying her coat and remarking loudly for the benefit of interfering old biddies concerned passers-by that she really should be wearing it. The fit is excellent for my petite daughter, and there is plenty of room due to the very clever grow-a-long sleeves, which allow you to let out the arms as your child grows. In fact everything about the coat is well designed: the adjustable hood, the reflective piping, the warmth-without-bulk.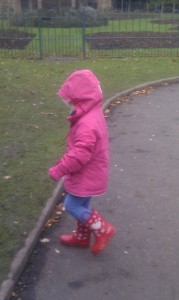 My only complaint is that they don't make them for younger children: Dimples is desperate for one of her own.
*disclosure: Land's End very generously gave LBG a coat to review, but the praise was easily given and the opinions are all ours.