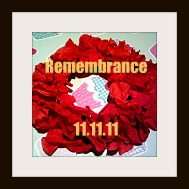 It's been amazing to have so many wonderful guest bloggers leading up to 11.11.11, and I'd like to thank:
for their varied, interesting and unique takes on Remembrance.
The theme of Remembering is evident across the blogosphere in many forms. Cherry Menlove, who has so very much to be thankful for this Remembrance Day,  is showcasing the most exquisite crocheted poppies as an alternative to the British Legion ones.
Tara's inimitable Gallery is challenging readers to mark the date by taking a photograph of what you are doing on 11.11.11. Likewise the 100 Word Challenge for Grown-ups has a 'lest we forget' prompt this week, and some incredibly moving entries.
I of course made a crepe paper poppy wreath to commemorate Remembrance Day, but I particularly like the simple Flanders Fields kids craft that I saw on Love Craft Blogs earlier today.
Highlighting the British Legion's Shoulder to Shoulder campaign, It's a Mummy's Life writes poignantly about the two poppy sellers she saw on a train. Chez Spudballoo, they are also championing the campaign with a beautiful photograph. Mum In Meltdown talks about her career with the ARmed Forces and reminds us that we should remember every day.
Of course for the most up to date information relating to this year's Remembrance Appeal, and to donate,  you could go to the British Legion website or follow their official twitter feed. They will keep you updated with news on FIFAs Poppy Ban