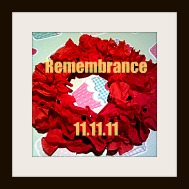 It's looking like Bonfire Night is going to be a washout here in the South East of England, which is a big relief to the Wonder Hound. It's a relief to me too: I was waiting for Tiddlyompompom's Oh So Helpful Guide and it's yet to be published. Aside from her utterly brilliant blog name, I am deeply envious of her brilliant Day Zero Project which I have repeatedly thought about before dismissing as an idea because I totally lack the courage! She's one of those bloggers that never fails to make me smile, although I doubt that is her primary goal in life, so I'm delighted that she wanted to be here today to share her remembering with you:
……………………………………………………………………………………………………………………………………………………………………………………..
My paternal granny was born 100 years ago. When she was my eldest daughter's age (3) the First World War started. My maternal great grandpa signed up with a load of his mates. From what I understand, he was the only one of them to come back.
Roll on thirty years, and my dad was born during the Battle of Britain. He lived in a town outside Bristol, but can remember seeing the flashes of bombs dropping later in the war. My maternal grandpa was an air raid warden. My step-dad's dad was a fisherman and went over to Dunkirk for the evacuation.
During my lifetime of *cough* just over 21 years, our country has gone to war several times. I have never seen a bomb drop nor have I cowered in fear in a basement while my home is destroyed. I have watched on the news as our troops have crossed borders, captured tyrants, been shot at. I am extremely fortunate that my only experience of war is what I have seen on tv or been told by my parents and grandparents. I have never had any first hand experience of war.
Even so, every year I buy a poppy. Sometimes I buy three or four. I got one for the car last year too. A child at school asked me why we wear them. So I told him.
Firstly I wear mine to remember the people who have died fighting so that I can be free.
Secondly I wear it so that I can help the Royal British Legion help soldiers who have been injured and the families of those who have died.
I can't even begin to comprehend the horrors that my great grandpa saw. I have no idea how it feels to wave your partner/child/parent/sibling/best friend off to war, not knowing when or if they'll come back. But people do just that every day.
I know I am lucky. I hope to god that my children are just as lucky. And I will make sure that they grow up to understand how lucky they are. And whom we need to thank.
We will remember them.