Wednesday morning dawns murky and just a little bit cold in Bromley. There is an air of finality, a whisper of autumn in the air. This time last week The Girls and I were enjoying the sunshine poolside in Burgundy, where they learned to spot 'vaches' and buy 'French bread'. I suppose that it was our last fling before term time beckons: the week ahead is filled with haircuts, dental appointments and nametape-ironing*. I didn't turn on the laptop, never mind check emails or blog comments, whilst I dealt with my own emotional issues, and sat watching my little girls enjoy each others', and my, company.
Back home in Blighty we were reunited with our beloved DH/Daddy and the Wonder Hound, neither of whom appeared to miss the chaos that accompanies our arrival as much as I would have liked. I imagine it's a culture shock to have us descend on the peaceful home that man and dog had enjoyed that week.
Pulling the rug across my knees as I sat reading on Saturday night, I made a mental note that we needed to prepare the house for winter. Although the days are still dry and bright, the knowledge that September is hours away makes me focus on the events that will follow. September means Christmas is three months away. By Christmas the days will be far shorter, far darker, that they are now. The shorter, darker days will, in all likelihood, be wetter. These things combined mean more time spent inside. Thus the necessity of preparing the house for the change in status from storage facility to play facility. We have lived outside, on and off, since the unseasonably good weather Britain saw as far back as February. Granted there have been chunks of time when the weather hasn't been as pleasant, but I can't think of a day in the last few months when we haven't been in the garden at some point or a weekend when we haven't been down on the beach.
The best thing about our summer, other than watching my Girls grow into sisters, watching the DH grow as a father of two girls, watching our beloved, beleagured dog calm the hell down, has been filling the Beach House with memories. Alongside the freshly hung pictures in newly painted rooms, there are bowls of shells collected because of their colour or shape. There are bits of driftwood. There are mountains of sandy toys, all of which are banned from crossing the threshold and which sit, poised for action, by the front door. There are vintage postcards of local beaches. There are nautical-themed bits and bobs that hang in the loo, on the backs of doors, that sit on window ledges. And in the Dining Room, above the mantel piece, there is Keith, a beautiful seagull made from glass, and bought one windy day from a Gallery in Deal. Gulls always gather whilst we pic-nic on the beach so it seemed somehow appropriately amusing that he watches us eat.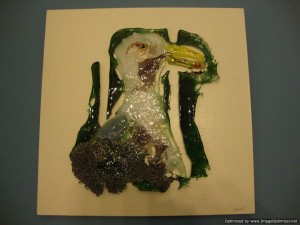 *I swore, after having to sew all my own Cash's nametapes on when I went to boarding school, that I would never bloody my fingers with that sort of task again!
It's Wednesday, so it must be Gallery day. See what other animals there are on Tara's Ark.