I imagine most people remember the day they were proposed to very clearly. I know I do. We argued. I could barely speak I was so angry with him. I stormed ahead on our supposed romantic walk, not knowing that the bad mood that sat on his shoulders was pre-proposal nerves. So when we stopped and he asked and I said "Yes!", buffeted by the winds on the February cliff-tops, I paid very little attention to the ring. My hands were bitterly cold without their gloves and I feared the ring would be blown from my finger into the angry swirling English Channel below and be lost forever.
Once safely ensconced in a seaside cafe with toasted teacakes and lemonade to celebrate, I had a chance to study it, cold and hard against my finger, which was unused to carrying such a token. It was beautiful, elegant and quite possibly the most exquisite ring I had ever seen, never mind own. A round diamond encircled by smaller wannabe round diamonds, and teeny tiny sparkles that stretched back onto the band itself. No description seemed to do it justice: I tried several times as I called family and friends to tell them of my affianced status.
The mood had evaporated by then, so on our return to the hotel so dear to our hearts, DH told that he had found the antique ring in a tiny jewellers across the road from The Office. He knew immediately that it was the one, and the news that it was a piece from the 1930′s sealed the deal, since he and I had a fondness for that period. But there was no story to go with the ring, which was a disappointment to us both. In fact I wanted there and then to start a campaign that all antiques should come with a full service history, like cars, so that you could know how they came to be. Which meant that I could make one up, full of romance and heartache and glamour (can you tell I've been watching Downton Abbey?)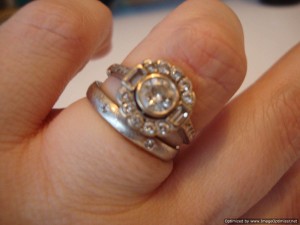 I like to think of Charles and Betty, alone on a bench, staring out at the sea, young and excited about a future together, a future that holds World Wars and Cold Wars and a Space Race. They lived through boom and bust, cars and computers, advances in just about everything. They raised children and tickled grandchildren. And now they sit side by side, two weathered benches staring out at a view they both loved, watching as the future continues to take shape around them. I take strength from their love whenever I twiddle my ring, catch a glimpse it in the mirror, see the sunbeams bounce around the room, reflecting off the many facets. It symbolises the best thing in my life: the love I have for my husband, and the love that he has for me. I hope that one day we too will sit, side by side, growing older and more weathered and staring out across a view we love.
This post was written in response to a Writing Workshop prompt a while ago: it has sat half finished in my draft folder since then, but after writing about Charles and Betty last week, I was inspired to finish it!