We've just spent the weekend with Grandparents and PD has been in heaven. Mamma and Daddy were merely servants: seen but not heard. PD did craft with Grandpa and sat next to Granny at mealtimes. She's really starting to understand family connections and talk about people when they are not there. Skype has been a big help with this, enabling us to talk to the GP's every Sunday, see Uncle Neal in America and Uncle Wilbur in Australia. To help with all this talk of family, she and I spent some time making a Family Tree.
We ripped up (avoids the need for scissors) some green and brown paper, and stuck it onto card to form a tree. Then, whilst she was in bed, I cut out photographs of all our immediate family members and mounted them on red paper so that we could do further sticking the following day*. Then, we fixed all the faces in the right places, talking about who the people were and how they were connected to us. And it made me realise that one day I could well be the Grandparent at the top of the family tree.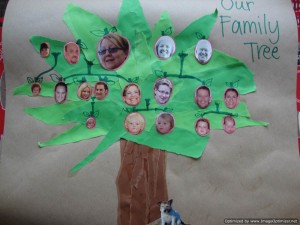 DH proposed to me on the walk from Ramsgate to Broadstairs (I know this seems like a non-sequitur, but stick with me: it'll all make sense in the end). It's a really picturesque, and not at all challenging, walk along the cliff tops. You get a lot of sea air and endless beautiful calming views of the sea, whether angry and grey and spewing foam, or calm, blue and positively Mediterranean. As we were walking in February, it was the former, and it was rather cold, which suited the mood since I thought he was in a foul mood, and was rather disgruntled with him for ruining my 'romantic mini-break' (of course I understood why after.) And it's peppered with benches bearing inscriptions in memory of loved ones. As we rounded a corner, the sun began to shine, tempers began to thaw, and I came across a shiny new bench, unweathered and raw, carefully seated next to a more venerable copy. The inscription on the weathered bench read:
To Charles xxxxxx 19xx-19xx
Who loved this view
Rather poignantly, the new bench was dedicated:
and Betty,
Who always sat beside him.
It was such a desperately sad and touching sight that I turned to DH and asked if he thought that could be us in 60 years: a pair of weathered benches, sitting side-by-side for eternity, staring out at the sea. And he proposed. Whenever we pass it, I always take the chance to sit down on my bench and thank Charles and Betty.
It strikes me that the bench is an excellent metaphor for the sort of grandparent (see- I told you there was a link) I would like to be remembered as: strong, reassuring, dependable, with a big enough lap for everyone who wants to sit on it and a love that reaches beyond death.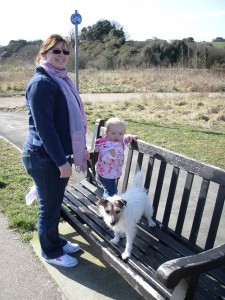 As always, check out The Gallery for other Grandparents!
*I highly recommend, if you fancy having a go at this, that you take the time to do a rough sketch in advance, so that you get all the right people in the right places without any squashing!