The weather held for PDs Birthday party, which made my life so much easier. After an hour of party fun inside, making bears and icing cakes, I opened the back doors and released a dozen children into the wild.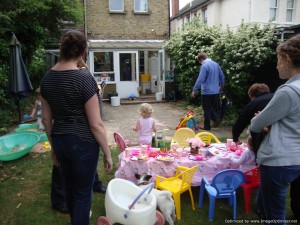 The garden is the primary reason that we bought the house: it's a worthwhile compromise for living on a busy road. There's a big patio which house barbeque, table and 8 chairs, canopy garden umbrella, sandpit, flower pots and other random detritus that spills out of the back doors from time to time. There is a lot of lawn; enough to require a petrol-driven mower, since electric cables don't stretch far enough. There is a vast shed which houses an equally vast array of brightly coloured plastic toys, a drinks fridge and the miscellaneous 'stuff' which couldn't be pigeon-holed elsewhere when we moved in. There is an enormous swing/play set, of little use when we first set foot in our new garden with our new five-week-old baby, but infintely useful now we have a 3-year-old PD and her Dimpled sister plus assorted friends and relatives crawling all over it. There is the engagement bench, a gift from the Mothership to mark our engagement, nestled in a quiet corner; a steamer chair, bought by some friend or other to mark our wedding, in a sunny spot; a playhouse, erected to mark our firstborn's First Birthday.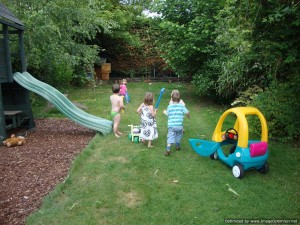 There are blackberries and strawberries that grow wild and which stain the Girls' fingers red and purple and pink during the summer and autumn. There is a magnolia, wisteria, honeysuckle and jasmine which waft scent across the lawn at unexpected moments. There are pots filled with growing vegetables: beans, courgettes, sunflowers, tomatoes, herbs, marking my first adventure in 'growing your own'. They are in pots to protect them from the Wonder Hound, our very own garden hazard, who patrols the perimeter at speed, crushing anything in her path, down well-carved channels across lawn and behind bushes, through flower beds and around obstacles. We have learned to plant around her trails.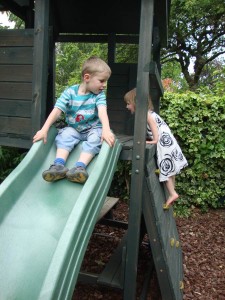 It is quiet in the garden, despite the noise of traffic travelling to Bromley, the noise of trains at Bromley South, going to London and the Coast, the noise of other children in their gardens. It will be noisy soon: we are seeking planning permission for an extension. But for now, it is our garden paradise.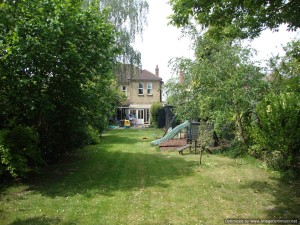 Written for The Gallery: My Backyard, a weekly feature at Sticky Fingers.
Last week the theme was Mustachioed. I couldn't post due to laptop failure, but this would have been my entry: