I know that we're still in March, but as you turn the calendar in two weeks' time, you'll be shocked to realise that you only have three days to buy wrap and send a personalised, heartfelt Mother's Day gift. It goes without saying that I am relatively new to motherhood, but have been looking after children for long enough to know that this is one of those days you don't want to forget (along with birthday and anniversary. I defy you to 'forget' Christmas.)
I genuinely don't expect much, but I do think that a card, preferably homemade, is crucial. In fact I will shortly be bringing you a post on Mothers' Day cards, so it's worth subscribing to my RSS feed so that you don't miss it! For my mum, and my Mother-in-Law for that matter, I have got into the habit of sending, instead of the usual flowers, a children's book. This may seem like a very foolish idea, particularly as I have been doing it since before we had The Girls, but it has worked very well. It means that the grannies have a clutch of children's books at their fingertips for when we visit. I like to think that it helps to build a connection between us all as a family. I'd be delighted if my girls did the same for me.
If you are running out of ideas, or if you are a Mother who knows full well that you won't get anything because the 'kids'  (ie: other half) forgot or, now I think about it, if you are the Other Half, then I have just the thing for you. Cath Kidston, purveyor of fine florals and leader of the kitshy kitchen trend, has a line of fabulous toiletries. Not only do they smell divine, they will make you feel pampered, and will look divine in your bathroom. And I have a set of Bluebell Shower Gel and Body Cream to give away, together with a super dooper loofah.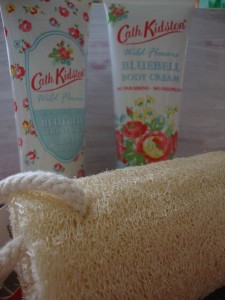 This competition has now closed. Congratulations to commenter number 9, Muddling Along. Your prize will be in the post shortly.