Now I'm no Red Ted, but I do try, and after some success at bubblewrap printing at playgroup a few weeks ago, I messed around with using Bubblewrap to make Easter Cards. You will need:
Stickers, Glitter, adhesive ribbon, regular ribbon
Firstly, cut egg shapes from the bubblewrap. Make sure they are slightly smaller than the card you are using. Then mix paint and glue together in the style of Mister Maker (a 50/50 mix) and use this to paint the ridged side of the Bubblewrap eggs. Place the eggs, paint side down on the front of the card and leave to dry.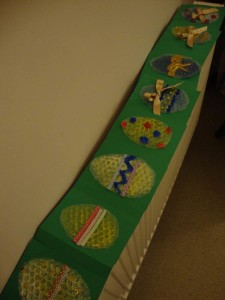 When the card is dry, decorate with glitter, bows and stickers.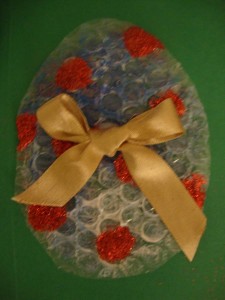 You could also try making bunnies using cotton wool. Just stick on some googly eyes and you are good to go.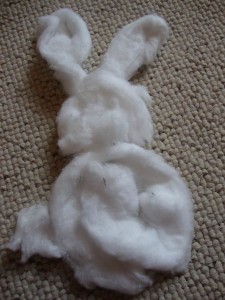 And whilst you have the cotton wool out, why not make a pair of bunny ears? All you need is some card and Duct tape.
Simply cut out some ear shapes from the card (I used an old cereal packet) then wrap them in the silver grey tape. You can paint them if you don't have duct tape. Stick cotton wool onto one side of the ears, leaving a border, then wait for them to dry.
Whilst they are drying, cut a strip of cardboard to fit around the head in question and fold over length ways (for strength). Cover in duct tape, then staple/glue/duct tape into a circle. Once dry, attach the ears. Duct Tape Bunny Ears- brilliant!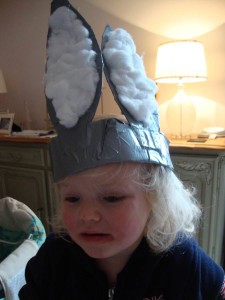 Linked with: